It's been almost a week since Bigg Boss 11 kicked off, and it is time for the first contestant to be evicted from the madhouse.
While the official announcement about the first eliminated contestant of the season will be made by host Salman Khan on the night of Sunday (October 8), viewers in their verdict have revealed the name of the participant whom they want to see out of the Bigg Boss 11 house this week.
Five contestants – Shilpa Shinde, Arshi Khan, Jyoti Kumari, Bandgi Kalra and Zubair Khan – have been nominated for eviction in the first week. And as per viewers' choice, Shilpa should be eliminated in the first week.
Bigg Boss 11: When Shilpa Shinde broke off her wedding at last moment; other lesser-known facts about the actress [PHOTOS]
International Business Times, India, conducted a poll asking viewers to vote for the contestant who should be eliminated from show. In the end, 27.06 percent people voted to say they want Shilpa out of the show.
Jyoti Kumari received the second-highest votes (22.22 percent) while 17.74 percent viewers said they want Zubair Khan evicted. Arshi Khan got 17.38 percent votes followed by Bandgi Kalra at 15.59 percent.
Going by the poll, it seems Shilpa has made it to the top of viewers' hate list owing to she being loud and annoying inside the house.
She has been cornered by the other contestants for initiating unnecessary fights with Vikas Gupta on a regular basis.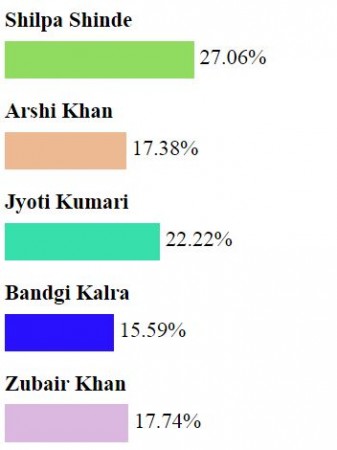 Meanwhile on Day 5 of Bigg Boss 11, Shilpa, Akash Dadlani and Zubair Khan were sent to kalkothri.
Shilpa escaped from the kalkothri with Akash's help, but only to place a slipper next to a sleeping Vikas' face. She then happily returned to the kalkothri.
Bigg Boss invited RJ Malishka and former contestant Pritam Singh to analyse the ongoing activities at the house.
While Pritam believes Arshi is playing the game well, Malishka thinks so about Hiten Tejwani.