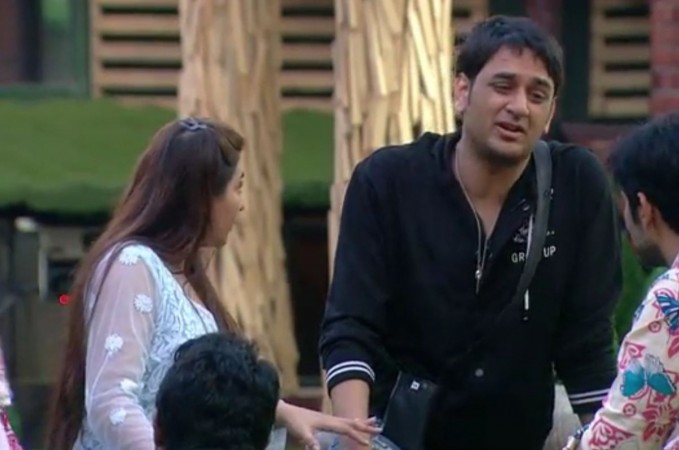 Bigg Boss 11 day 31 began with Vikas Gupta bitching about Hina Khan, Shilpa Shinde and Priyank Sharma to Hiten Tejwani and Dhinchak Pooja.
Later, Vikas was seen having a verbal spat with Priyank Sharma. Everyone was then seen attacking Vikas for the cushion factory task.
Bigg Boss asked the housemates to choose two contestants who didn't perform well in the luxury budget task. And send them to kaal kothari, where they will get food only for two times a day.
This turned into a big fight among the contestants, in which Shilpa and Arshi Khan created the most noise. After all the arguments, captain Luv Tyagi sent Vikas, Arshi and Mehjabi to the jail.
As soon as these three entered the kaal kothari, Shilpa and Akash sat outside the jail and kept on annoying Vikas. Shilpa even mentioned their personal fight while taking a dig at Vikas.
Bigg Boss then asked all the contestants to go inside the house and leave the people in the jail alone. Suddenly, Vikas got up and tried to run away from kaal kothari.
Mehjabi and Arshi tried to stop him, but he continued to escape from the jail. Then, Bigg Boss asked Vikas not to repeat his mistake. Later, Bigg Boss called him to the confession room, where Vikas broke down.
Then Bigg Boss called Shilpa in the confession room and warned her not to bring personal issues inside the house.
Shilpa was then seen bringing food for Vikas, which he didnt have. Akash and Shilpa continued irritating him. Then Vikas gathered everyone and told them that he never ever tried to destroy Shilpa's career.
While he was telling about the issue to the contestants, Akash started shouting and said why Vikas is saying stupid things. This made Priyank angry and it led to a big fight again.
The day 31 in Bigg Boss house was only about fights and drama, which was of course quite annoying for the audience.
The coming up episode will show Vikas trying to run from the house again, even after Bigg Boss' warning.