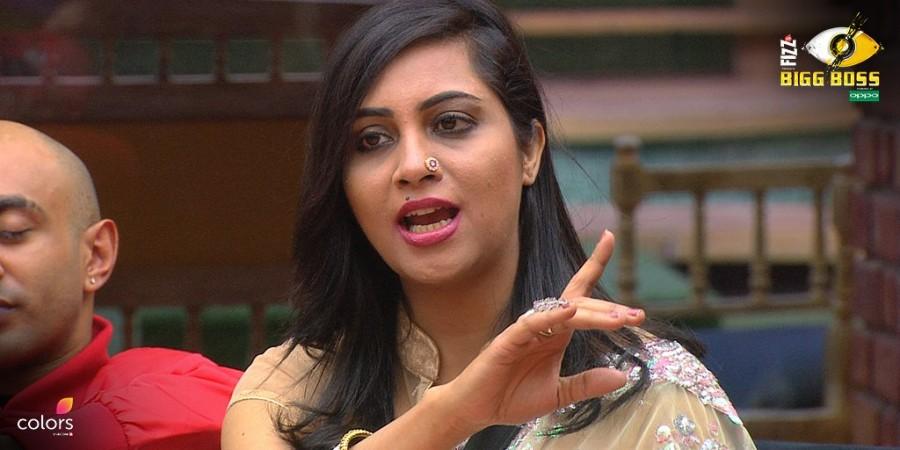 Bigg Boss 11 contestant Arshi Khan had recently spoken about how her father caught her in possession of something at her house in Mumbai that left him very angry. Although Arshi did not reveal what her father had found, it appears that she may have been referring to packet of condoms.
Bhojpuri actress Mahima Singh Puri, who claims to have been Arshi's roommate in Mumbai, has confirmed the story now.
Mahima not only confirmed the incident but also said Arshi had put the blame on her after her father found the condoms inside her wardrobe.
Arshi was earlier seen on unaired footage on Voot telling Vikas Gupta and Puneesh Sharma that her father had once paid a surprise visit to her house in Mumbai. He found a packet of something inside her wardrobe, following which she was questioned by her angry parents.
Arshi had added that she somehow managed to escape the embarrassment by telling her father that the "thing" belonged to her friend.
Now Mahima has told International Business Times, India that the "thing" was a packet of condoms, and the friend that Arshi had referred to was none other than her.
Mahima said Arshi made her say that the packet belonged to her so she could escape the wrath of her parents.
"I had to take the entire blame. Arshi Khan made me apologise to her father. I was not engaged but Arshi made me tell her father that I was and that the condoms actually were for my use with my boyfriend. As my boyfriend lives with his family, he gave the packet to me for safe keeping. This is what I was made to say by Arshi," Mahima told IBTimes India.
She added that Arshi's parents had found condom packets in her wardrobe not once but thrice. Once her father was so miffed with her that he did not speak to Arshi for two months, Mahima said.
Mahima had earlier said she was Arshi's roommate in Mumbai for some time, and hence she knows many of the Bigg Boss 11 contestants secrets.