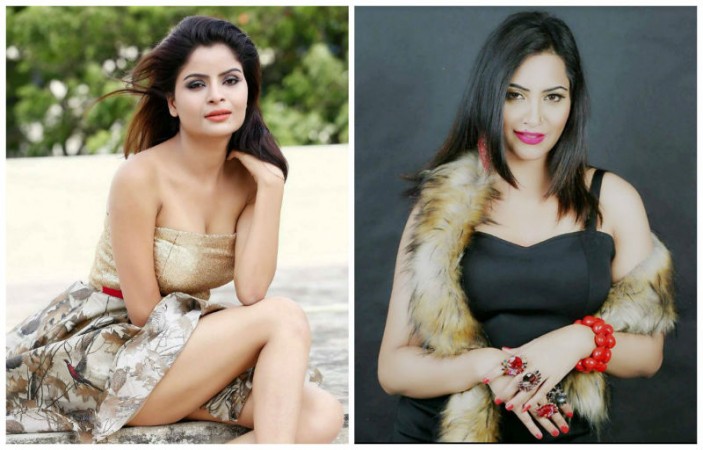 South actress Gehana Vasisth has yet again made an outrageous comment on Bigg Boss 11 contestant Arshi Khan. She said that Arshi agrees to have sex with people in exchange for just Rs 5,000.
Yes, you read that right. Gehana, who has been making several allegations on Bigg Boss 11 contestants, now made a statement on Arshi that would surely irk her fans.
Gehana said that Arshi gets "sold" in exchange for Rs 5,000. She even said that the Bigg Boss 11 contestant makes a husband or boyfriend in every city she visits.
"Haan yeh sach hai. Arshi Khan 5-5 hazar rupey mein bikti hai. Wo jis bhi seher mein jati hai, waha unka koi na koi pati ya boyfriend zaroor maujud hota hai. (Yes, this is true. Arshi Khan sells herself for Rs 5000. She has a husband or boyfriend in whichever city she visits)," Gehana told Dainik Bhaskar when asked the allegations that she made against Arshi.
Gehana has been targeting Arshi and many other contestants from ongoing Bigg Boss 11 show. She had earlier claimed to have a sex video of Arshi, which the latter's publicist had called to be fake.
Gehana had also said that Arshi is married to a 50-year-old man, who is a bookie in Pakistan. With such allegations being made, Arshi's publicist had sued Gehana for allegedly defaming her. However, she had started making such claims again saying that she was not afraid of Arshi or her publicist.
Meanwhile, Arshi had raised many eyebrows inside Bigg Boss 11 contestant by appearing in a towel inside the house. Akash Dadlani was seen instigating her to do the stunt, following which she appeared in a towel; though she had worn short clothes inside.
Shilpa Shinde was apparently very upset with this act. This was shown in an unseen video on Voot.