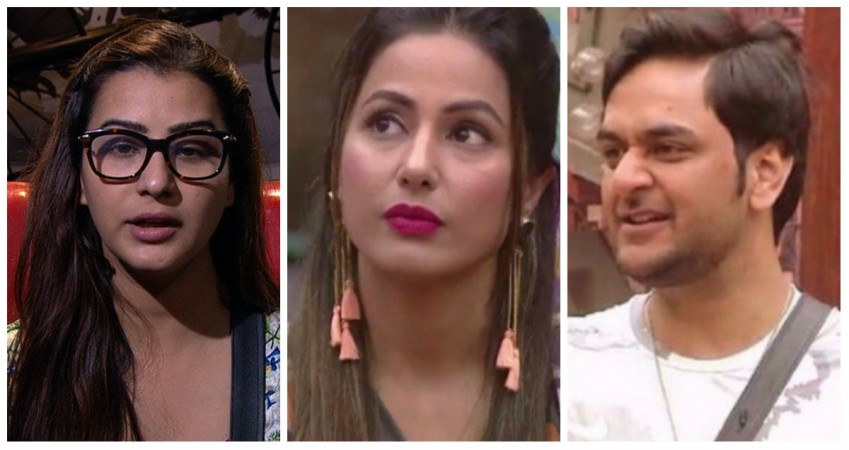 Bigg Boss 11 is entering its finale and all the remaining contestants are now playing just for themselves. At a time when Shilpa Shinde is widely being predicted to win the show, it appears that bookies want Hina Khan or Vikas Gupta to lift the Bigg Boss 11title.
Shilpa has been one of the most popular contestants in Bigg Boss 11. She has fair number of fan-following who are trying their best to make their favourite contestant win.
However, it appears that major betting racket is keeping a close eye on Bigg Boss11. It is being said that the bookies do not want Shilpa win the show, but would like to see either Vikas or Hina to emerge as the winner.
Apparently, the bookies will win big money if Shilpa loses, as maximum betting have been happening in support of her winning the show. Bhojpuri actress Mahima Singh Puri, who has been making serious allegations on Bigg Boss 11 and its contestants, has now came up with another shocking claim.
Mahima took to Twitter and said, "Over Rs 900 cr riding on @BiggBoss winner in Satta Bazaar, bookies favor #VikasGupta @eyehinakhan as winners & want #ShilpaShinde to lose as they will earn huge profits if MAA looses."
Mahima revealed that she was approached by two bookies to turn the tide of public demand against Shilpa, so that the people vote for Hina Khan and Vikas Gupta.
Even Arshi Khan, who was evicted of the house some time ago, also replied to Mahima's tweet saying that some bookies had approached her as well to help defeat Shilpa and Hina.
Mahima further said that the satta market is totally against Shilpa or even Hina, and will make most profits if Vikas wins Bigg Boss 11.
"Bookies will lose about Rs 800 crore if Shilpa Shinde wins Bigg Boss Season 11. The satta operators are very worried about losing a huge sum of money. If Shilpa wins, 4 main bookies will lose at least Rs 200 crore between them. Many actors, models and aspiring actresses are acting as conduits for the bookies and taking bets from their friends in the film industry," Mahima said.