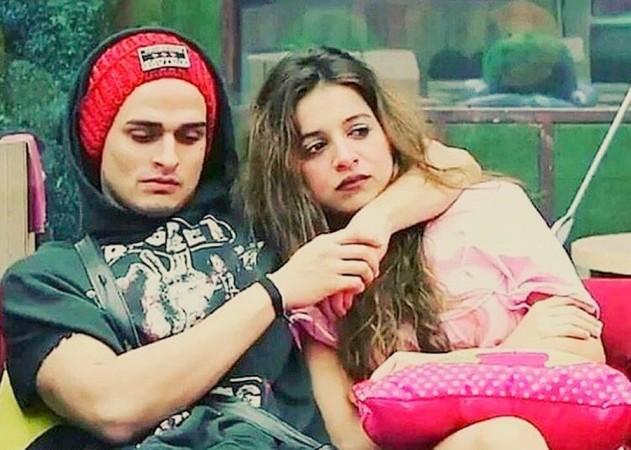 Benafsha Soonawalla and Priyank Sharma's intimate affair in Bigg Boss 11 grabbed eyeballs both inside and outside the house. While other house inmates criticised the VJ for sharing the same bed with the former Splitsvilla 10 contestant, fans on social media were left quite amused and
surprised at the same time.
Post eviction, Benafsha took to social media platforms to clear the air around the constant talks of growing closeness with Priyank on the show. While interacting with fans, she clarified her stance saying that her intimacy with Priyank was just a big joke and even went on to say that the latter is like a brother to her.
And just like Priyank's ex Divya Agarwal, netizens were reluctant to buy her clarification and called it as one of the most foolish excuses of all time.
Even children have good excuses after they bunk their classes.
"Just Friends"
Ben jo apne bf ke sath krti thi vo sb priyank ke sth krti soti bhi thi or khti bhai giri Hui insaan

— Naaz Qureshi? (@NaazQureshi9) November 20, 2017
Go and fool your boyfriend Varun Sood.
Bigboss mei camere jhut bol rahe hai, Benhasha hi ek relation "sweet brother/friend" banana janti hai, i don't know Benhasha tu us category ki hai ki u r comfortable with your Brother also.......chee oh gud.. Go & make fool to ur @VSood12 & ur family....becoz we are not fool

— Nisha Arora (@nisha_arora85) November 20, 2017
After effects of binge watching Game of Thrones.
I think she watches game of thrones too much??

— Illusions (@unseen1618) November 20, 2017
Not everyone is a fool.
Ben bahut acha chuna laga rahi hai..
Audience ko..
Ghar ke andar phate speaker se sara episode toh kharap kiya kiya..
Abhi bahar aakar bro..sis bolke aur kachra kar rahi hai..
Divya aur hum sab toh pagal the Jo bhai behen k riste ko jaan na paye..
pure relation

— LOVELY (@ilovelyssS) November 20, 2017
A bird in the hand is worth two in the bush.
LO PRIYANK K HAATH SE DIVYA BHI GAYI N BEN BHI HAHAHA......A BIRD IN ONE HAND IS WORTH TWO IN THE BUSH........SAMAJHLE PRIYANK.............NAA GHAR KA NA GHAAT KAA

— Razia (@raziaallah2908) November 20, 2017
A serious case of mental disorder.
It's a serious case of mental disorder. Hope she doesn't Varun papa in future as he was protecting her image when she was in d house. ?????

— Fatima Poonawala (@fa_aneesp) November 20, 2017
"Every conversation with Priyank was in good fun and humour. I would catch hold of him later and we would laugh about it. I did it to tease him and make him awkward and then I would laugh about it and make fun if him! The laughing part was not shown. Yes, I genuinely went on his bed one night to say sorry, cried and hugged him slept next to him for a few minutes and as soon as I woke up I went in my own," Benafsha wrote on her Instagram.
What do you think about Benafsha's clarification? Do let us know in the comments.