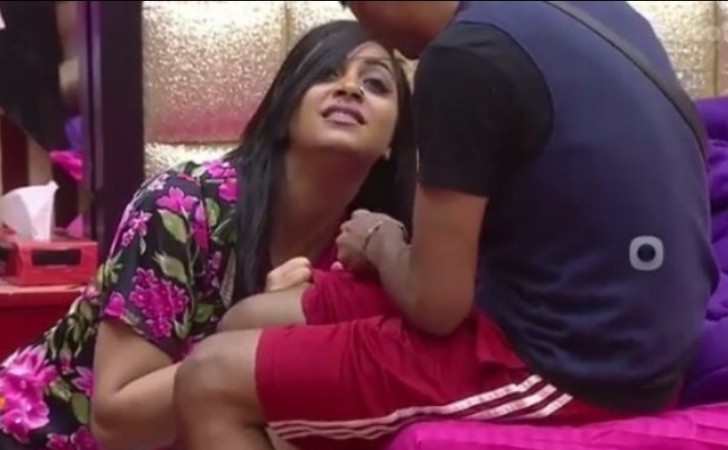 Arshi Khan and Akash Dadlani are two of the most controversial contestants of Bigg Boss 11. Now an unseen video has been leaked on social media which shows a rather naughty side of the two contestants.
A video from Bigg Boss 11, which was not aired on television, shows Arshi trying to pull down Akash's pants. Yes, you read it right.
It is seen in the short clip where Arshi is holding on to Akash's shorts, and the latter is desperately trying to save his modesty. While the video is quite funny, Arshi apparently was just trying to irritate the co-contestant.
Arshi had let go his pants only after Bigg Boss made an announcement, following which all the contestants headed to another room. This footage was chopped out from the episode but is available on Voot, and now on social media as well.
Known for her controversies from the past, Arshi had also made Hiten Tejwani quite uncomfortable some time ago in one of the episodes. The bold diva was seen trying to woo him and had even kissed Hiten on the cheeks.
It all had happened during the Raja Rani task. In an attempt to prove that she is a better queen, Arshi had first massaged Hiten. However, upon seeing that Shilpa Shinde was also giving a leg massage to him for the task, she had gone a step ahead and kissed him on the cheeks.
If that was not enough, Arshi went on to tell all the contestants that she had kissed him. This left Hiten quite embarrassed as he was seen avoiding eye contacts with other inmates.
Some time ago, Arshi and Sapna Choudhary had a nasty fight, following which Priyank Sharma brought out some personal scandalous issue of Arshi. He had told Sapna to mock Arshi by just telling her "Pune-Goa".
For the uninformed, Arshi was accused of practising prostitution in Pune and Goa, cases regarding which are still going on in the courts. This left Arshi very upset, following which host Salman Khan gave Priyank an earful. Watch the unseen video of Arshi pulling down Akash's pants: