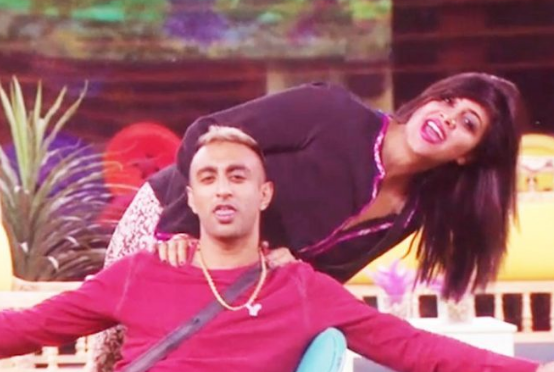 Akash Dadlani and Arshi Khan's friendship has always gone through its ups and downs and there is always a boundary which needs to be respected in friendship. And looks like Akash Dadlani clearly wants to ignore that.
In an unseen video on Voot titled ' Akash's Dirty Humour', Arshi candidly shares that she's feeling dizzy, to which Vikas Gupta says: "Who is responsible for this" – which we think was a subtle way of making a joke but Akash took it forward and said: "She puked also last night, what's the mystery behind Arshi's child"
Hina Khan quickly stops Akash and says that the joke was gross and Arshi in reaction calls Akash 'disgusting'.
CLICK HERE to watch the video.
Meanwhile, in another video posted on Twitter -- a sneak peek of tonight's upcoming episode, Akash and Arshi are seen fighting with each other. Akash calls her cheap and tells the house how she was comparing her hotness with Sunny Leone and Katrina Kaif.
We wonder what the game plan between the two is! It is definitely a planned move as the two made it clear in the episode that was aired on Dec 3 that they will win back Shilpa Shinde and betray others by going against each other. But how can someone stoop so low just for the game?
Let's see if this drama baffles the housemates and how they react to their fight.
Recently evicted contestant Bandgi opened up about Arshi and told Firstpost: "Arshi was good earlier, now she is playing a dirty game. For the first half season she was with Shilpa, and the second half she shifted on Hina's side, but she has realised that it's not working. Coming weeks will be bad for her."