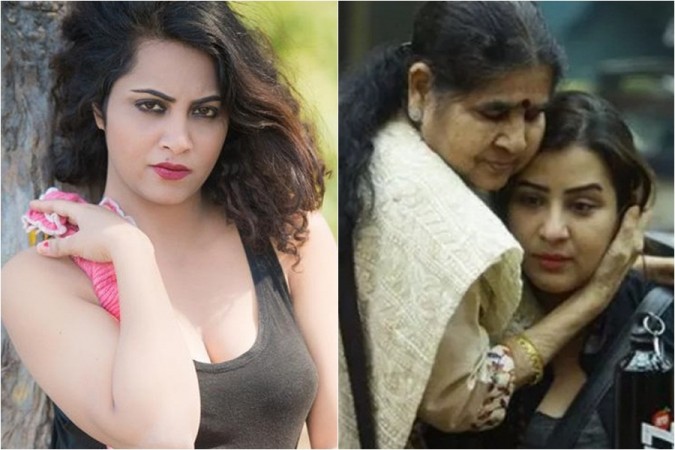 Moving away from all the fights and arguments, Bigg Boss 11 took their contestants as well as viewers through an emotional ride during the family task where family members of each contestant went inside to meet them after two long months.
While each contestant was left teary-eyed after seeing their respective family members, Arshi Khan, however, chose to spread negativity by misbehaving with Shilpa Shinde's mother.
Before Shilpa Shinde's mother could enter the house, Arshi Khan's father went inside the house and greeted each contestant and made some funny comments to lighten up the moods.
When Arshi's father went to Shilpa, he said, "Aise hi chattaan ki tarah khadi rahiye (Keep standing tall like a rock)" which left a smirk on Shilpa's face.
However, Arshi, who seemed a bit unhappy with Shilpa, accused the latter of giving an evil glance to her father when he left the house and called her a disgusting woman. But her house inmates agreed to disagree with Arshi's baseless accusations against Shilpa disrespecting her father in any
way.
Later, when Shilpa's mother stepped inside the house, she politely told each contestant that they should stop hurling abuses at Shilpa since the contestants have termed the latter as a mother.
After the Bigg Boss put the contestants into unfreeze mode, everyone including Vikas Gupta, Hina Khan, Puneesh Sharma, Akash Dadlani and others went to greet Shilpa's mother and offered juice to her. But Arshi, on the other hand, didn't have the courtesy to get up from her place and
talk to Shilpa's mother and looked at her from a distance.
While Shilpa remained unperturbed by the entire episode, fans, however, slammed Arshi on Twitter for disrespecting someone's mother on national television.
#ArshiKhan has lost all limits. I know you guys have requested other videos. But after the episode is over I will upload the Arshi Khan exposed video. That women has no standard, heartless women making false accusations on Shilpa. How dare she ??

We Stand By Shilpa #BB11

— Jonathan Groff fan❤️ (@emocraze) December 7, 2017
I don't believe in judgements but #arshikhan is the most ridiculous and horrible person, just couldn't hold back anymore, she doesn't know the meaning of respect and manners @ColorsTV #bb11

— Kunwar amar (@kunwar_amar16) December 7, 2017
What do you think about Arshi Khan's behaviour? Do let us know in comments.