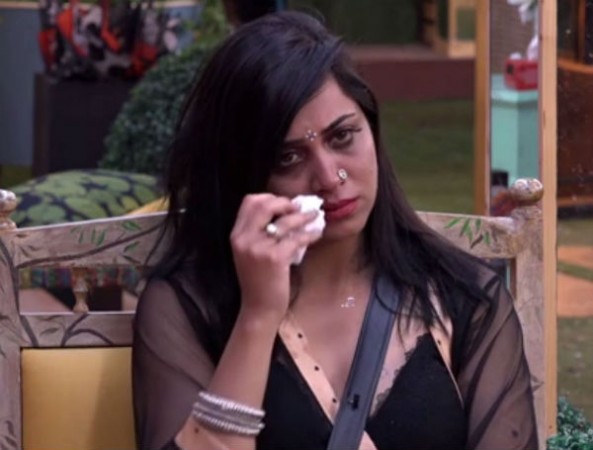 Arshi Khan is out of Bigg Boss 11 but that does not stop her from being in the news. A video has come up on social media that shows the controversial diva in tears, and asking fans to support Vikas Gupta.
Arshi was evicted during last weekend ka vaar, following which fans had expressed shock at her elimination. Eventhough she is now no more in the show, but Arshi wants Vikas to win Bigg Boss 11.
The video shows her breaking down as crying profusely. The bold lady is seen expressing gratitude to Vikas, and requests her "awaam" to support him. The video has been shared by a fan page on Twitter.
She ended the video by saying "love you Vikas Gupta." But the funny part is that most of the comments that the video received shows people saying that they would support Shilpa Shinde and not Vikas.
It appears that most of Shilpa's fans commented on the video, and said that it is Shilpa who deserves to win the show. Some even trolled Arshi for making nasty comments on Shilpa on the show.
Many others mocked Arshi and Vikas saying that her "awaam" threw her out of the show, and now it is the latter's turn to be out of it. Some made fun of her saying that she is doing "naagin" drama.
Check the video and some of the responses that it got:
???????? Audition de rahi Hai Naagin 3 ke liye.. ...Arshi begum yeh Humse na hopaayega...

— Real Rabia⚡ (@RealRabia2) December 25, 2017
Arshi ki awaam threw her out of the show. Now ut is vikas turn looks like??

— ?purnima ?? (@purnimaadvani) December 25, 2017
i feel bad for arshi ki woh out ho gayi but plz naagin drama kam karo itna jayada nahi sorry hum cry baby ko support kare sorry swthrt..

— Aishnalagra (@aishnalagra) December 25, 2017
Arshi was evicted among six other contestants who were nominated including Vikas Gupta, Priyank Sharma, Luv Tyagi, Puneesh Sharma, Akash Dadlani and Shilpa Shinde. Although she was considered to be one of the most loved contestants on the show, Arshi was eliminated for getting the least number of votes.
Later, Arshi had said that she was expecting to reach the finale. "It was really shocking and to some extent I am disappointed to be out of the Bigg Boss show. If I say I am not upset and angry, I would be lying, who will want to get evicted when there are only two weeks left for the finale. I was expecting to go in the finals," she had said in a statement.