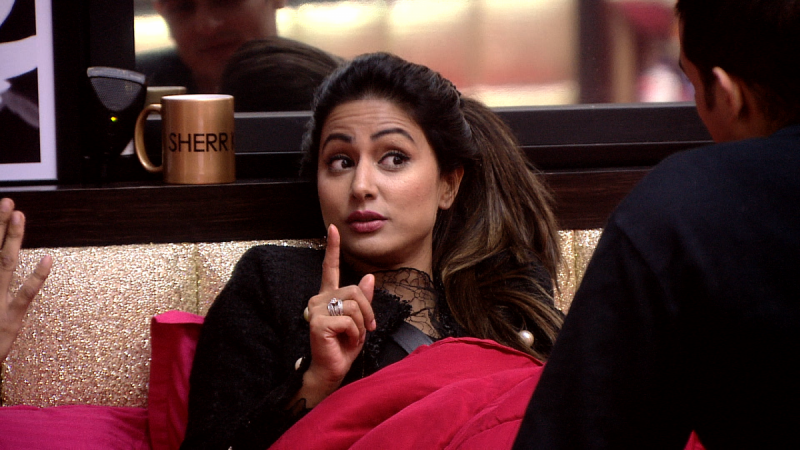 Hina Khan is one of the most popular as well as controversial Bigg Boss 11 contestants. While it is being said that Vikas Gupta and Shilpa Shinde are the two other tough contenders, Hina has now claimed herself as the winner of Bigg Boss 11, according to a promo video.
In a promo video, Hina is seen threatening other contestants that they will get evicted, and said that she will be the winner of this season.
TV actress Mouni Roy appeared on the show recently, and initiated a task called "Charitra ki kasauti" where each contestant is labelled with one specific trait. Hina gets the title of being the most arrogant contestant of this season.
However, she apparently liked being called arrogant as she then is heard saying that being little arrogant is justifiable as she has achieved a lot. She then went on to say that she is the winner of Bigg Boss 11, and told the other contestants on their faces that she would get all of them evicted in the video.
"Iss show ki winner mein hoon. Tum sab ko nikal ke jaungi. (I am the winner of this show. I will leave after getting all of you out of the show)," Hina said. However, the full episode later revealed that Hina was actually talking about Shilpa, and re-uttering her words.
Watch the video below:
Hina and Shilpa are two contestants who cannot stand each other. The two often get into heated arguments.
Recently, Hina and Shilpa had gotten into an argument after the former had told her not to use tap water in cooking. Shilpa tried to defend herself saying that the water anyways gets boiled while cooking, but Hina told her not to use it. Eventually, an irked Shilpa had said that she would not do any kitchen work henceforth.