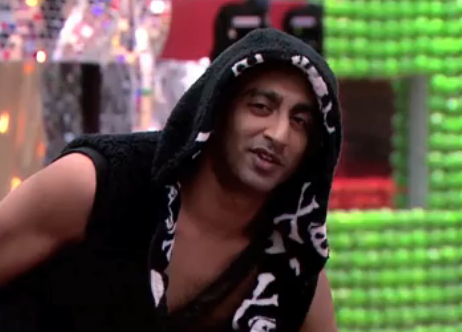 Akash Dadlani is in a rebellious mode but not towards the contestants but against the show - Bigg Boss.
In the upcoming promo, it is shown how Bigg Boss clearly states that Akash has to sleep on the floor and eat boiled food to atone for his sins. But looks like Akash is in no mood to listen and does everything opposite which will result in no luxury budget in the house.
The housemates try to explain him but everything is vain. He challenges and further says, 'Bhaad mein jaaye' (Go to hell) when Puneesh asks him to respect the show format.
Cut to another scene where Shilpa Shinde along with Puneesh Sharma and Luv Tyagi are discussing nominations. Arshi Khan is too involved in this practice. Bigg Boss house rule says that the contestants are not allowed to discuss nomination process but well, they still do it and in turn 7 out of 8 contestants get nominated.
Too sad. Let's wait and watch who actually got saved in the house and what drama will unfold when Akash challenges everyone.
Meanwhile, for those who don't know -- the biggest plot twist in the history of Bigg Boss happened on December 17 when Salman Khan revealed that between Priyank Sharma and Hiten Tejwani
(who are in the bottom 2); it was up to the gharwale to select one person to save.
While Hiten was most loved and respected in the house, his presence in the house seemed to be too much of a competition and the gharwale, by majority vote, decided to evict Hiten from Bigg Boss 11.
After being evicted from the house, Hiten Tejwani said, "It was a wonderful and fantastic experience! I came out the same person that has walked into the house, though I am much calmer now. My sanity is intact!"