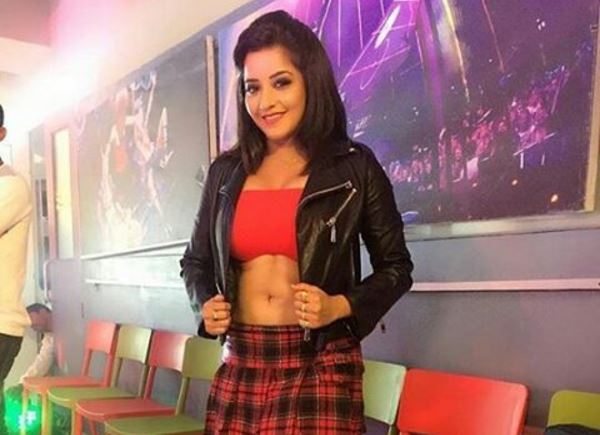 Bigg Boss 10 thrives on controversies and this season is no different. Two weeks into the show and the contestants are ready to kill each other.
For instance, Monalisa's attitude towards her own team — the celebrities — has changed since the last task. She didn't take their decision of putting her behind bars very kindly. And ever since the incident, she has considered Manu Punjabi and Manveer Gurjar to be her good friends.
In the two weeks in the house, they have often been spotted talking at the lawn, living area and kitchen space, trying to know more about each other. While the celebrities were concerned about Manu making inappropriate advances, Monalisa said she was okay with the closeness.
Even though she is happy with the kind of equation she shares with Manu, viewers have expressed disgust on social media. They have reacted very strongly to Monalisa kissing Manu as part of the luxury budget task.
Meanwhile, there have been reports that Manu is already engaged and will apparently announce it to his fellow inmates soon. His fiancée, Priya Saini, told India Forums: "He has this habit of getting into any fight or argument, even if it has got nothing to do with him. Also, he is obsessed with cleanliness. Ab yeh dekhna hai ki woh Bigg Boss house mein kaise survive karte hain."
Here's what some have tweeted on Monalisa's dip in the swimming pool and closeness with Manu:
Mint: @BiggBossNewz i so wnt monalisa 2 b out 4 her cheap&fake romance with that cheapo manu,but I guess its nitibha who will b eliminated #BB10
Kiran Patel: Plz @BiggBoss I don't want see #ManuPunjabi #monalisa love. very boring #BB10 fake love story #weLove @bani_j and @rohan4747
Mridul Singh: #monalisa acting like a cheap 'C' grade actress of a 'B' grade #KantiShah film. disgusting #MonalisaAntara !! #BB10
R̲ι̲∂̲α̲: Arghh... #Monalisa with #ManuPunjabi .... please noooooooo. #BB10
PARMAR VIKRAMSINH: Manu or monalisa fack game khel rahe hai dono public city stunt ke liye fack reaction kar rahe hai #BB10
Navin Pai Raikar: Manu 's & Mona Lisa's romance is like a low budget, bad script & bad screenplay movie! #BB10 #BiggBoss10
In other news, Monalisa, Manu, Manveer, Nitibha Kaul, Om Swami, Bani J and Lopamudra Raut have been nominated for elimination this week.