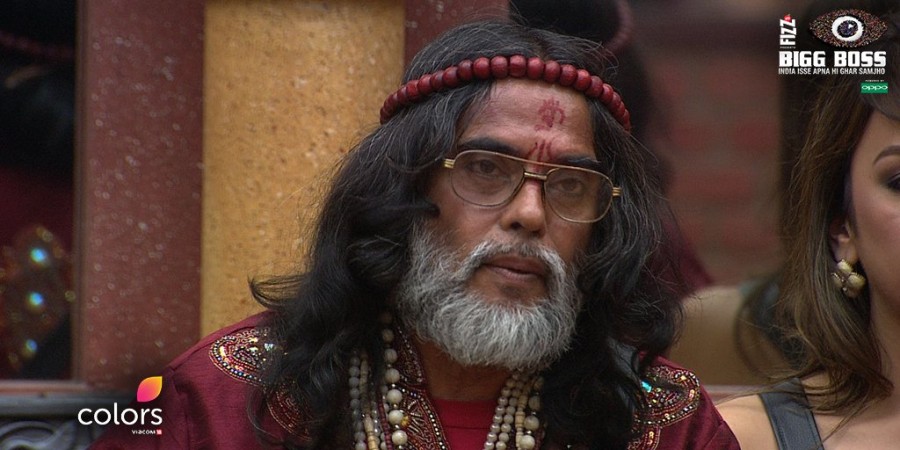 As we all know, Om Swami has left the Bigg Boss 10 house. While the contestants believe he has been evicted, the viewers are aware that he is being kept in a secret room, from where he will be able to keep a track of the drama that unfolds in the house while he is gone.
Swami didn't make sense most of the time and his philosophies were slightly off the charts for most fans of the show. However, he did keep the takers of BB10 engaged and entertained through his many conversations he has had with fellow inmates.
In these three weeks, he has strangely made no close friends. The ones he thought he got along with — Manveer Gurjar and Manu Punjabi — have often picked a fight with the self-styled godman for trying to be a one-man army. He has been jailed quite a few times and cannot stand Rohan Mehra's guts.
In other news, rumour has it that Swami will be joined by Priyanka Jagga in the secret room. Jagga was the first contestant to be evicted, but her fans weren't ready to believe it considering how good a player she had proven to be in the seven days that she was in the house.
Meanwhile, here's how the viewers have reacted to Swami's temporary elimination:
saurabh kumar singh: @therealitypost om swami ji is entertening then the other contestane then bb decide to notevicted swami ji
jabra fan of srk: How fake #ManuPunjabi #manveergurjar & #navinprakash were crying. All of them hated #OmSwami. Nature of big boss house?? @BiggBoss
@DREAMER_PRAGATI: @TheKhabari this is unfair why Om swami kept in secret room?? @BiggBoss @ColorsTV @iamappyfizz
shakawat rappy: swami om is undoubtedly the most entertaining contestants in #bb10 though he is fake baba..but entertaining
Ravi Rules: @reborn4thTime Om swami is not more than a Cartoon channel 4 me! Happy enough thats he's not gone :D
Iqasad ‏@iqratqr_iq: @BiggBoss @BeingSalmanKhan I Don't know why om swami getting secrete room previliges.he is a crypt cruppt dhongi entertainer.also a thief