Bigg Boss 10, hosted by Salman Khan, opened on a grand note on Sunday, October 16, and for the first time in its history, the controversial show saw common people entering the house as contestants. The fans of the reality show, who were eagerly waiting for it to go on air, proved to be ardent followers this time as well. Bigg Boss 10 managed to garner 54.4 millions television views, according to data International Business Times, India received from ZAPR.
The show initially recorded a relatively low figure of 28.5 million viewership between 9 pm to 9.30 pm and there was a variation in its viewership throughout the show before it dropped to a considerable extent towards the end of the show (15.5 million views) between 11 pm to 11.30 pm.
Coming to the geographic distribution of the viewers of Bigg Boss 10, Maharashtra stands tall with 8 million of total viewership, followed by Uttar Pradesh with 7.9 million. Other states where Bigg Boss 10 was viewed the most are Gujarat with 4 million views, Delhi (3.5 million views), West Bengal (3.4 million views), Rajasthan and Punjab with 3.1 million viewership each, Madhya Pradesh, Haryana and Andhra Pradesh with 3 million, 2.6 million and 2.5 million views, respectively.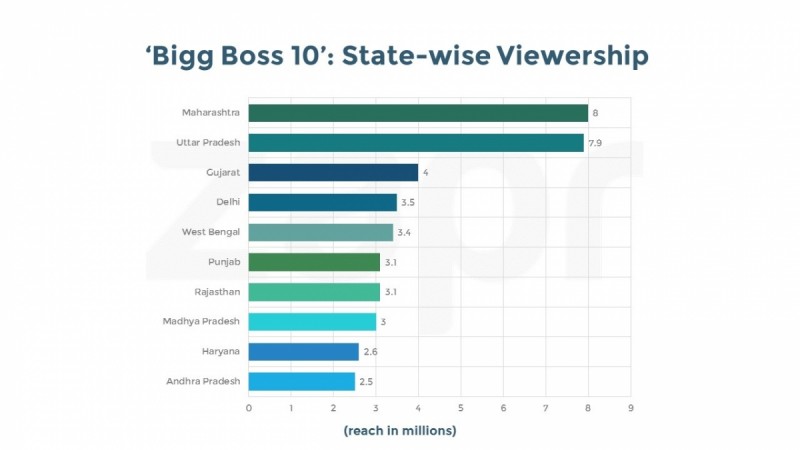 With Bigg Boss 10 pulling a viewership of 54.4 million for its first episode, it appears that the show will eventually turn out to be one of the best seasons of the controversial show.
The first episode of the 10th edition of the reality show saw celebrities turning into sevaks (slaves), while the commoners would rule the house as maaliks. The show is expected to bring a lot of spicy controversies and gossips.
Commoners like Om Swami, Manu Punjabi, Akansha Sharma have already raised the curiosity among the fans of the show. On the other hand, fans of celebrities like Karan Mehra and Rohan Mehra of Yeh Rishta Kya Kehlata Hai fame, VJ Bani and Gaurav Chopra are excited to see them locked inside the house for the next three months.
With such craze, it remains to be seen if the makers of Bigg Boss 10 manage to keep the viewers hooked to the show throughout the season. Also, will it turn out to be the most successful season? Only time will tell.