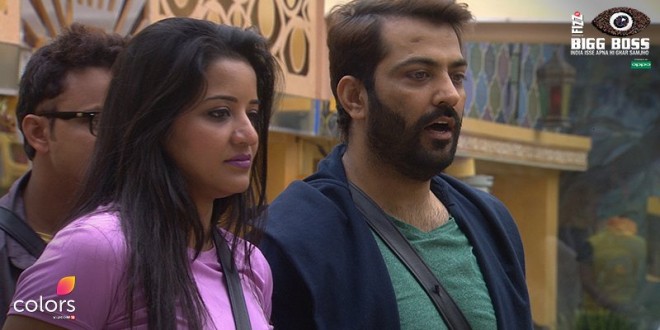 High-voltage reality show Bigg Boss 10 thrives on controversies and what better way to get the tabloids going than a possible affair. Even though Mona Lisa and Manu Punjabi have clarified that they are nothing more than friends, their camaraderie in the house is affecting people outside.
Mona Lisa's fiancé Vikrant Singh Rajput is worried about her getting too close to Punjabi. "We were supposed to get married, but now, I am confused. I know that this is all drama. Once she is out [of the house], things will get sorted out. It's not easy for me or my family to watch this," he told Mid-Day.
Rajput and Mona Lisa met on the sets of their film — Dulha Albela — roughly six years ago. The actor told the daily that he had advised Mona Lisa to not follow in Veena Malik's footsteps and she should be good.
Punjabi has been friendly towards Mona Lisa. Right at the start, her team members asked her if she was comfortable with Punjabi making advances. The celebrities dropped the matter when she said she was okay with the occasional advances and found it healthy.
On Monday's episode, Punjabi wanted Mona Lisa to smile on her birthday and therefore, wrote HBD Mona on the lawn using tissue papers. The Bhojpuri actress was elated at the special gesture and thanked Punjabi and the housemates for putting together something so special.
In other news, this isn't the first time Mona Lisa's and Punjabi's friendly rapport has been questioned. A few weeks ago, when she had kissed him as part of a task, viewers reacted strongly saying that the fake romance brewing between the two was unnecessary.