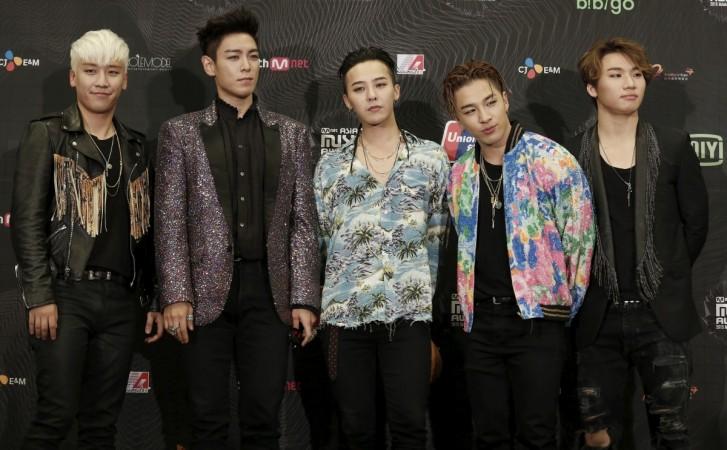 YG Entertainment's BIGBANG may have existed in the K-pop scene for 10 years but as members of the band grow old, one question that lingers on everyone's mind is this: When will the members enlist in South Korea's military? Furthermore, will they continue as a band after completing their mandatory service?
So far, band members haven't given a definite answer about when they will enter the military. However, many believe that the time could be soon as most of them are in their late 20s. According to the law, men have to enlist before they turn 32.
Earlier, YG Entertainment CEO Yang Hyun Suk said BIGBANG member T.O.P would be the first to enlist and others would follow suit. However, BIGBANG members were recently asked about their anxieties surrounding their impending military enlistment during a recent interview with CNN.
Taeyang responded by stating that they aren't very worried about joining the military. He added that he and his band mates are focused on the present and are constantly working towards the future. However, will the band return as a unit once their military service is over?
Taeyang hinted that the band would still be together 10 years from now. The "Eyes, Nose, Lips" singer stated: "I think we should approach with a bigger picture as BIGBANG. Each of us is thinking that our next step shouldn't just be limited to things like music and stage. We want to become a group that can really give good influence to people, and to be such individuals, that would be our next step."
His band mate G-Dragon aka Kwon Ji-yong concurred and added that the future of BIGBANG certainly includes taking their music and the band to the next level.
"I always think today is better than yesterday, and tomorrow is better than today. It might be slow, but we moved forward continuously and that's why I think we are here," Allkpop quoted him as saying.
Meanwhile, BIGBANG members have been busy with their 10th anniversary promotions. The band members earlier opened an exhibition as part of their decade long presence in the K-pop scene and are scheduled to hold their biggest concert on Saturday, Aug. 20 in Seoul's World Cup Stadium.