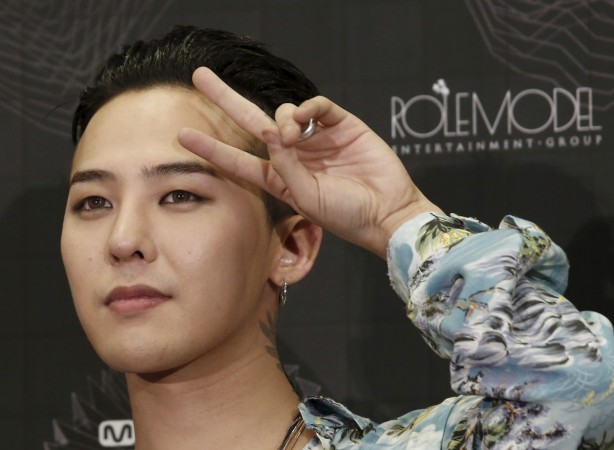 Chinese fans of BIGBANG were excited, thrilled and no doubt very happy to see their hallyu idols on stage during a recent fan meet in Hong Kong. While most fans could rein in these overwhelming feelings, one of them just couldn't. What ensued was an embarrassing moment not just for her but for BIGBANG member G-Dragon as well.
When members of the K-pop band held a fan meet in AsiaWorld-Expo, Lantau, some fans were invited on stage. Among them was a young Chinese girl who was evidently a huge fan of G-Dragon aka Kwon Ji-yong.
Although GD's fan was in shock when she was given the opportunity to talk to the "Bae Bae" singer, she quickly overcame her initial reaction and planted a kiss on his cheek when he leaned in. This was quite unexpected and G-Dragon, 27, was as stunned as she was pale. Nevertheless, the singer didn't want his fan to squirm with embarrassment and burst into a fit of giggles on stage.
He later said, "I feel so good right now." This statement did cheer her up and the other BIGBANG members didn't make her feel uncomfortable either.
BIGBANG's presence in the Chinese city created frenzy not just among fans, but also among celebrities. Members of BIGBANG were invited by Jackie Chan himself. Furthermore, the band's concert on Friday, July 22 was attended by several celebrities, including Kenny Bee and his wife Rosamund Kwan, Maple Hui and members of girl group, Super Girls.
Apart from meeting fans, some members of BIGBANG also got involved in the local art scene. T.O.P aka Choi Seung-hyun announced his collaboration with Sothebys to curate its Autumn Hong Kong auctions. The "Loser" singer was chosen to curate an auction titled #TTTOP, after his Instagram handle. The auction is scheduled to take place on Sunday, October 2.