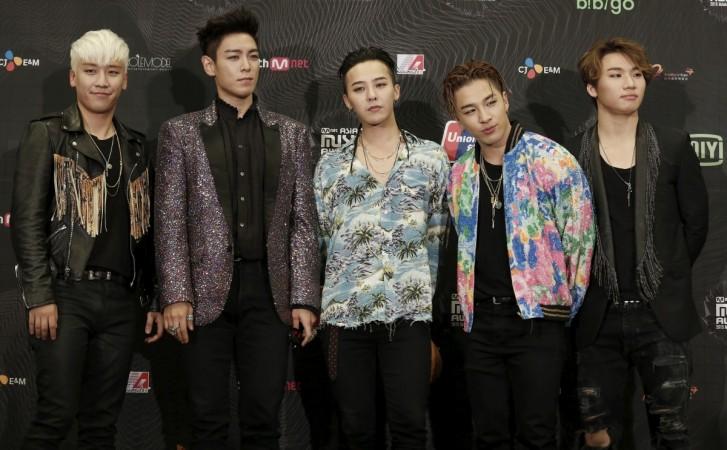 While BIGBANG fans are anticipating the release of the band's upcoming documentary, "BIGBANG MADE," band members gave a sneak-peek of what audiences can expect. During a recently held press conference, Korean rapper G-Dragon promised the film would show the singers' true selves beneath the façade of stardom.
The five members of YG Entertainment's K-pop band sparked interest among fans when they spoke candidly about themselves and the choices that guide their lives.
When the host at the press conference read out one fan's statement: "I see BIGBANG are people too," G-Dragon aka Kwon Ji-yong replied, "If we're not people, what else would we be?"
He then went on to say that people often mistake celebrities as those who are removed from a regular, normal life. And he stated that they are not anything beyond the ordinary; expect they are very talented of course.
G-Dragon, 27, added, "The public may not know that we're really just like regular men our age. Actually, our mental age might even be younger. We're innocent people and I think that shows without filter in this documentary."
As the "Heartbreaker" singer launched into a candid, passionate statement about their lives, his band member Taeyang lightened the mood.
"Through this movie, you might think that we aren't in our right minds," Soompi quoted him as saying.
While the band members are busy promoting their upcoming film as part of their 10th anniversary celebrations, some of them are also exploring other avenues. Earlier, Seungri revealed he would be working on Japanese film, "High & Low: The Movie."
Seungri, 25, will play the role of a gangster in the action film. When asked how his band members reacted, he said they were very hapy to know that he bagged a new role, but broke into peels of laughter the moment Seungri said he would play the role of a Korean mobster.
BIGBANG's MADE documentary will release on Thursday, June 30, on CGV ScreenX cinemas in Korea.