Real Madrid's Cristiano Ronaldo started the first leg of the Spanish Super Cup from the bench, against Barcelona on Sunday as the player only returned to training a few days ago after an extended break. But, there is no way, you can keep the talismanic player out of the game.
Despite Real Madrid's 3-1 win over Barcelona, it was Cristiano, who became the talking point of the match for his antics too. His 24-minute cameo included a sublime goal, two yellow cards (resulting in red) and a shove to Ricardo De Burgos Bengoetxea, the referee, which might lead up to a 12-match ban.
Cristiano was introduced into the game in the 58th minute when Real were leading 1-0. The star player did not take much time to make an impression as he showed his class with an outrageous goal into the top corner.
The Real Madrid player removed his jersey while celebrating that goal, and gave an iconic look towards the Barcelona crowd as players ran towards him to congratulate. The rules of the game state that a player, who removes jerseys during post-goal celebrations, will receive automatic yellow cards.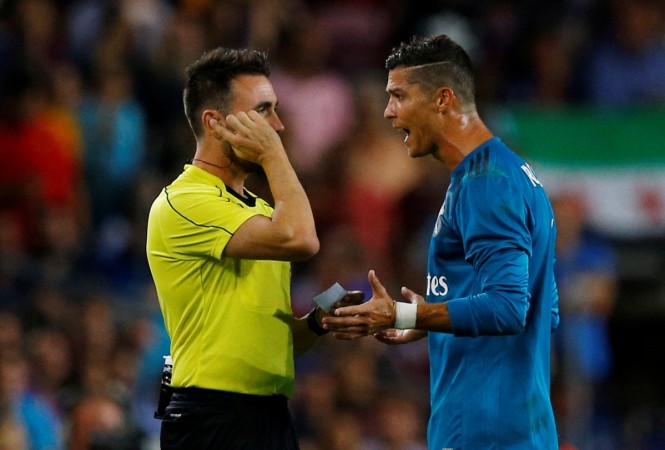 Removing a jersey is always a high risk as a second yellow for any act of their on the field would mean a red. This is exactly what happened in the next few minutes as Cristiano was given his marching orders, the referee showed him the second yellow, for simulation, trying to earn a penalty by diving inside the box.
Cristiano was visibly disappointed with the red card, and he in an unprofessional manner pushed the referee, who included the incident in his match report: "Player: Cristiano Ronaldo Dos Santos Aveiro. Once the red card was shown, the player pushed me slightly in a sign of disagreement."
As per goal.com, under Article 96 of Spanish Federation's rule book, a player can be suspended for 4-12 matches for their conduct such as 'grab, push or shake'. The final decision will be taken by the federation and Real Madrid will be sweating about the outcome as a suspension of more than five matches will result him in missing La Liga matches too.