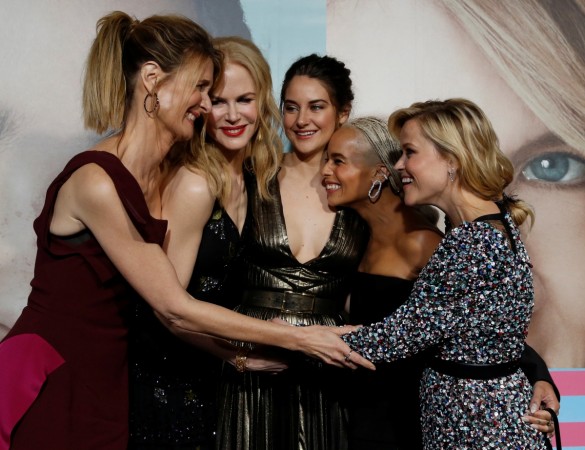 Big Little Lies premiered on February 19 on HBO and in episode 1, somebody's dead. But who is this person and who killed the mysterious person?
The first episode packed the suspense brilliantly. The cliffhanging end has got many fans curious to find out who was murdered and why. Could it be Laura Dern's Renata Klein or is it Perry played by Alexander Skarsgård? Well it is definitely not Reese Witherspoon, Nicole Kidman or Shailene Woodley.
Based on the best-selling novel written by Liane Moriarty, published in 2014, book readers already know who got killed and who the murderer is. However, fans are going crazy to understand who got killed in Big Little Lies episode 1.
Also Read: Big Little Lies episode 1 watch online: Walk into HBO's world of lies
There could be a possibility that Nicole Kidman's Celeste might have killed her husband in the first episode. She could have killed her husband Perry because she was tired of his violent actions and wanted to stop it once and for all. So while there could be suspicion about Celeste being the killer, there are equal possibilities of Perry being the dead victim.
But what about Madeline's character played by Reese Witherspoon? Could she be a suspect? The first episode showcased amazing acting skills from the award-winning actress and Madeline is clearly not a die-down character. Rather, she could be the killer given her impulsive reactions and decision-making. What if she killed "this" person in the heat of the moment or to protect her friend, Celeste?
Fans also speculate that Renata could be the victim because she is clearly not liked and she knows it. Her bit**y character is hated not only by people in the show, but fans have grown a dislike towards her as well. Or what if Jane was killed? She is an outsider and has just moved into the neighbourhood. What if "someone" had already grown a disliking towards her due to her "badass" attitude?
This is nerve-wracking! We cannot wait for Big Little Lies to air their episode 2 on HBO on February 26. The show premieres in India on February 21 at 10 PM and will feature new episodes every Tuesday on Star World Premiere HD.