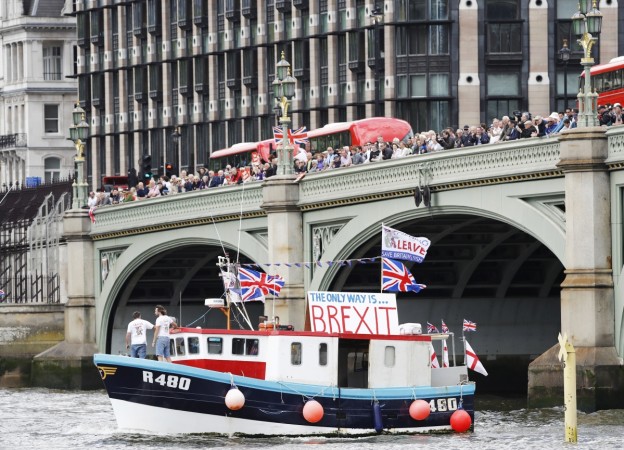 At a time when British economy is relatively well placed with low unemployment and working age population to jobs ratio clocking its record best, a possibility of the country's exit from the European Union (EU) is more a concern of big companies than smaller ones, the New York Times noted in its editorial.
Five days remain before Britain goes into a referendum (a popular vote within Britain) on the issue on June 23. Pollsters are busy gauging the country's mood to leave or not to leave the EU.
In the event of an exit vote in the referendum, Reuters noted the country would still have two years leeway to negotiate with the 28 member nations of the world's biggest politico-economic union.
However, the UK-based big businesses whose operations range across Europe catering to more than 500 million of its population are worried. They are bracing up with more funds, confidence-instilling statements and preparing to burn mid-night oil on what they least want to happen, said the new agency.
Communications will remain key with assurances on no disruptions in their near term business flow in the case of vote for Brexit (act of Britain exiting the EU).
The NYT, citing a survey of 3,394 firms in the UK, said for close to 40 percent of them the exit made no difference, while another 25 percent found it a positive development. A Reuters report noted three fourth of FTSE 250 companies had made no plans for the exit.
However, the news agency quoted a senior executive of a public relations firm as saying, "The nearness of the vote and sudden increased likelihood of Brexit has definitely sharpened client appetite for draft statements."
As request for communication advice increases to keep nerves cool for some pan-European companies, others at the receiving end is treasury department executives who are afraid an exit would agitate financial markets, thereby having a dominoes effect on trade, economy and migration issues, said the news agency.
For export-oriented multinationals and also other biggies like Rolls Royce, BAE Systems, GlaxoSmithKline, Diageo and many others, the currency volatility, especially in their sterling-denominated earnings, has now roused their corporate treasury department.
A possibility of need for cash to avoid a Brexit related disruption has also made giants like Vodafone to keep their credit lines open, noted Reuters.
Result Day: June 24
International employees, customers, shareholders, suppliers are people who need an immediate hearing on the day of the referendum results, said executives of multinational firms.
Miles Young, chairman of Ogilvy and Mather, told Reuters: "I would want to reassure our European partners that this is not something they should regard as a hostile act." The advertising agency is part of the UK's WPP Group.
Another senior executive of FTSE 100 firm noted that in the event of an exit, the company's customers might need them to talk it out right after June 24 or may ask to "come back in two years to talk to us."
For senior traders in financial services sector, especially in large banks like Citi, Goldman Sachs and others, the night would remain sleepless as it would be the most volatile 24 hours the market would have witnessed in a quarter century.