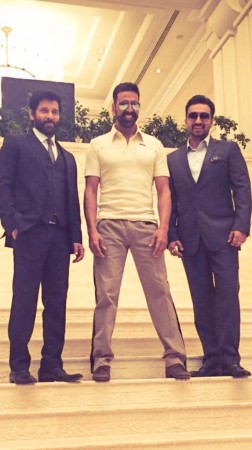 Bollywood action hero Akshay Kumar, Tamil superstar Chiyaan Vikram and businessman and Shilpa Shetty's husband Raj Kundra launched the new Tamil home-shopping channel, Big Deal TV in Chennai on Wednesday, 3 June.
The grand event took place at Chennai Sathyam studios, where the trio interacted with the media regarding the new home shopping channel.
Check photos of the event HERE
The upcoming channel is scheduled to go on air on 18 June and will be available on all cable and DTH platforms in Tamil Nadu. The channel will give celebs a chance to create their own brands and share profits with the channel.
Earlier in March, Akshay, Raj, Shilpa, Sonakshi Sinha had launched the the Big Deal TV in Hindi.
Side Businesses of Bollywood Celebs
During the recent press conference, Akshay also promoted his upcoming films. He will next be seen with Sidharth Malhotra in Karan Malhotra's "Brothers", which is scheduled to release on 14 August. Other upcoming films of Akshay include, Prabhu Deva directorial action comedy "Singh is Bling", which is set to hit screens on 2 October and "Airlift", which will release next year.
Meanwhile, Vikram, who was last seen in super hit thriller "I" has a handful of films in his kitty, including "10 Enradhukulla", "Marma Manitha" and "Dhruva Natchathiram".
Check out the photos of the event below:
In Chennai for press con of new Tamil celeb homeshopping channel @bigdealtv coming soon! @chiyaanvikram @TheRajKundra pic.twitter.com/wxecJTTF0y

— Akshay Kumar (@akshaykumar) June 3, 2015
@akshaykumar , @chiyaanvikram and @TheRajKundra launch Big Deal TV http://t.co/FNKjAtC8WS pic.twitter.com/XrJizRfQBn — Boxoffice Eye (@boxofficeeye) June 3, 2015
Big Deal TV Launch Event @akshaykumar @TheRajKundra #Vikram pic.twitter.com/iEi0LutDZp

— Kolly Buzz (@KollyBuzz) June 3, 2015
Bollywood Action King #AkshayKumar glitters at #BigDealTV Launch https://t.co/6NLWvCq224 @bigdealtv pic.twitter.com/6Lj7BDZIIR — Galatta.com (@galattadotcom) June 3, 2015
#RajKundra launches Tamils first celebrity 24/7 Home shopping channel #BigDealTV http://t.co/qUnayRHGHT @TheRajKundra pic.twitter.com/aSHfMF8Y5d

— Galatta.com (@galattadotcom) June 3, 2015
#Vikram and @akshaykumar teams up with @TheRajKundra for #BigDealTV - online shoppie pic.twitter.com/WOJmrRJ8N6 — CinemaPathivugal (@CinemaPativugal) June 3, 2015
Teaming up fr launch of @bigdealtv in Chennai..Chiyan Vikram @TheRajKundra n @akshaykumar pic.twitter.com/jzN5XMEtOC

— Rinku Gupta (@RinkuGupta2012) June 3, 2015
@akshaykumar sir @TheRajKundra and #ChiyaanVikram at the launch of @bigdealtv pic.twitter.com/ay7fPT4c8g — Gabbar Ruling Hearts (@akkians_army) June 3, 2015
This is BIG @bigdealtv South Super Star Chiyaan, Bollywood superstar @akshaykumar and me! #celebrityshopping pic.twitter.com/TjGS0c3exN

— Raj Kundra (@TheRajKundra) June 3, 2015