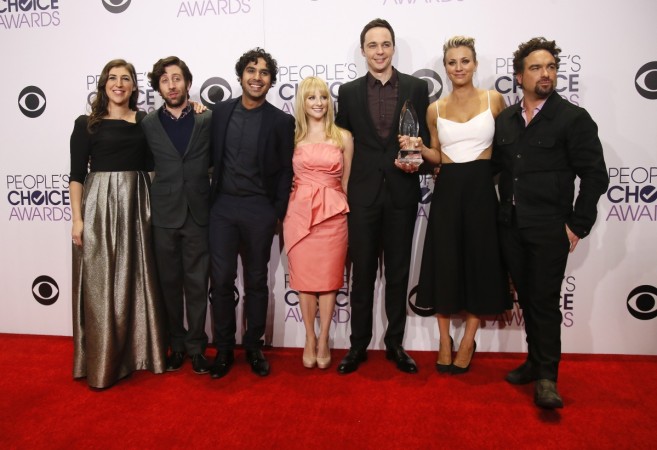 Production of Season 9 of the CBS sitcom "The Big Bang Theory" has wrapped up, and actress Kaley Cuoco, who plays Penny, posted online on Tuesday pictures from the final day of shooting.
"That's a wrap on season 9 @bigbangtheory_cbs !!! Thank you to all the fans. You are why we do what we do. See you next season!!!!!! [sic]" she wrote alongside a picture of the cast of the show.
Mayim Bialik also posted a photograph of her hanging out with Melissa Rauch and captioned it: "End of season 9!! I'll miss @themelissarauch all summer, that's for sure !! [sic]"
The final episode of the season is titled "The Convergence Convergence" and according to a leaked description, Sheldon's mom Mary and Leonard's dad Alfred will get together towards the end of the episode. Penny will decide to redo their wedding after Leonard's mother complains about not being invited to her son's wedding and Alfred and Mary arrive to take part in the ceremony.
They soon realise that they have a lot of similar interests besides a mutual dislike for Beverly, and the episode will end with both of them leaving together to go to the hotel where their rooms are booked. It is implied that the two hook up, and it remains to be seen how these developments will affect the lives of Sheldon and Leonard.
Elsewhere in the episode, we'll see Howard and Raj getting paranoid after he receives an email from the Air Force about his latest invention.
The synopsis, according to "The Big Bang Theory" Wikia, reads:
Penny and Leonard get remarried in front of their friends (who show up), Leonard's parents and Mary Cooper. Sheldon's mother and Leonard's father find something in common. Howard gets an unknown email from the Air Force about his invention.
"The Big Bang Theory" airs Thursdays on CBS.