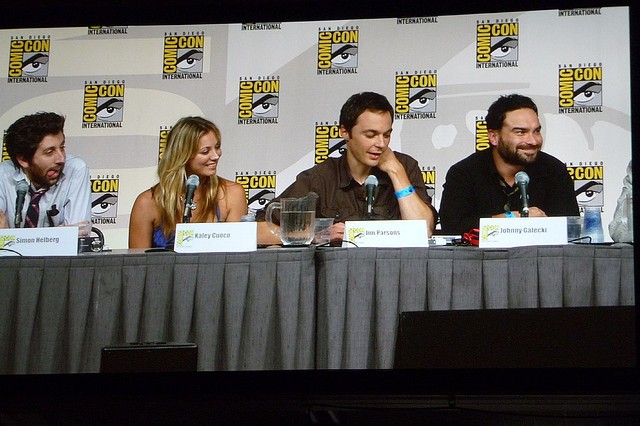 "The Big Bang Theory" will finally return on Thursday with a new episode, and this week viewers will once again see Amy and Sheldon sharing a tender moment together.
The 11th episode of the season is Christmas-themed and it is titled, "The Clean Room Infiltration."
As per the official synopsis of the episode, Amy will decide to throw an "authentic Victorian Christmas party," which will displease Sheldon as he is not too fond of Christmas traditions. But what gets him riled up is Amy's act of kissing him under a mistletoe, while out buying a Christmas tree.
This innocent public display of affection will force Sheldon to cook up ways to ruin Amy's Christmas, and he will break their rule of not getting gifts for each other.
As per spoilers, Sheldon wants to have the last laugh and he feels getting Amy a Christmas present would make her feel small, especially as she wouldn't have bought him any. In the preview clip of the episode, Sheldon admits to Bernadette that he loves Amy a lot, and then adds, "Let's find the kind of gift that makes her feel small and worthless."
Finally, Sheldon will gift Amy something she instantly adores - a photo of himself sitting on Santa's lap - and she will give him his "favourite cookies from his Meemaw's recipe," thereby restoring harmony between the unconventional couple.
For fans of Sheldon and Amy, the highlight of the episode is going to be the kiss. Although the characters' relationship has been moving forward at steady pace, physical affection has been few and far between.
Their first kiss back in February took the Internet by storm, and shortly after Jim Parsons, who plays Sheldon, told AOL that Amy and Sheldon might move beyond a kiss in future.
"I think so. I mean nobody's told me anything. I think the writers have done such a wonderful job with this relationship. It's such a justified slow-pace they're going at. It's so organically awkward. They've really got a lot of leeway to go where they want to with it. They've really taken their time and justified it with those two characters. Anything could happen," said Parsons.
"Sheldon and Amy have come, in a way, a long ways romantically already that I didn't think would ever happen... I mean, we kiss now!" he added.