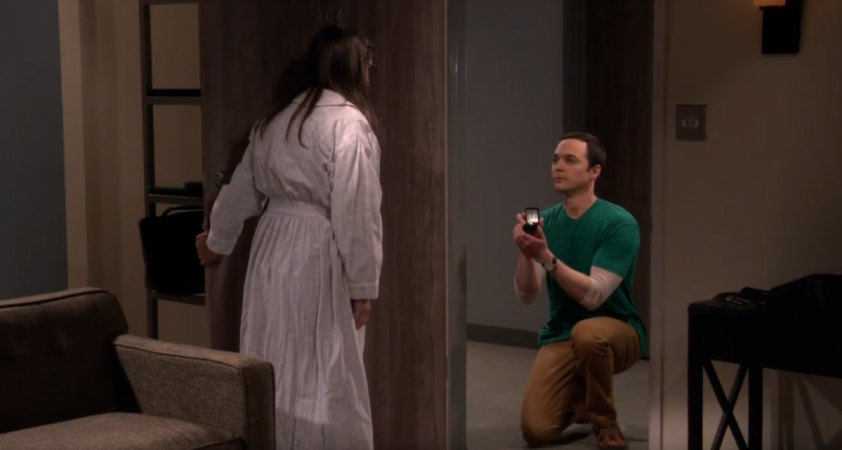 Finally! The Big Bang Theory is returning with new episodes, and fans will now get to know Amy's answer to Sheldon's proposal.
After leaving fans on a cliffhanger with Season 10's finale, The Big Bang Theory Season 11 premiere will pick up from where it ended: The Proposal.
Also Read: Young Sheldon, Mayans MC and other popular series spin-offs to watch out for
The new episode's official synopsis reveals not one but two plot details from the show. First, it teases Amy's answer, and second, it reveals that Bernadette will be pregnant again.
"We find out Amy's answer from the end of Season 10. Meanwhile, Howard and Bernadette are expecting another baby."
While this reveals the basic plot line, new showrunner Steve Holland teased that there are hurdles along the way for Shamy.
"Even though it's a cliffhanger, I think most people assume the answer will probably be yes," he admitted, adding that Ramona will be back.
According to Holland's interview to TV Guide, Dr Nowitzki, who kissed Sheldon, will be back in the premiere episode.
The kiss will throw a "wrinkle" in the couple's life. "I think we dealt with [Amy's] answer in a way that felt the most real and natural to the character," he added.
Discussing the new season, he said: "The proposal at the end of Season 10 gave us a lot of energy of things to do going into the new season, but honestly there's just been interesting things going on in the science world of real life that's been really fun to bring into the show."
He also told the website there are some great science guest stars who would feature in the first few episodes.
What about Leonard and Penny? Holland told TV Guide: "Obviously Howard and Bernadette have a baby and Sheldon has proposed to Amy, so that's certainly going to bring up some things for Leonard and Penny about what the next step in their relationship is. But we already have a baby and a Sheldon on the show, so I don't know if we need any more babies right now."
The Big Bang Theory's Season 11 Episode 1 will air on September 25 at 8 pm EST on CBS Network. You can live-stream the episode here, or if you want to watch it after the episode has aired, you can click here.
Watch the sneak peek here: