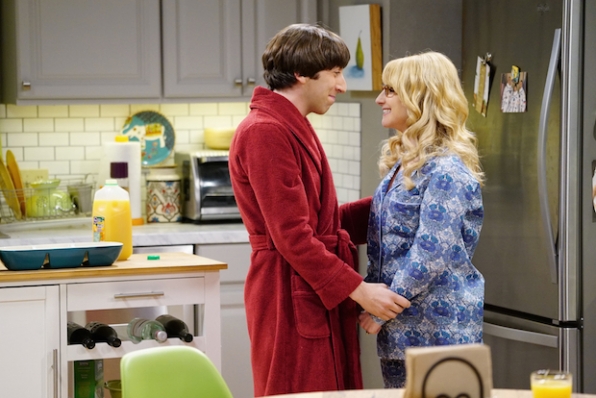 CBS' hit comedy show "The Big Bang Theory" has started filming for Season 10 and spoilers from the set indicate that Penny might land in hot water after she blurts out about Bernadette's pregnancy at work.
Warning: This post contants spoilers from the upcoming season of "The Big Bang Theory."
According to the information available on The Big Bang Theory wikia, the second episode of the season is titled "The Military Miniaturization" and one of the main plots of the episode will be Bernadette's pregnancy. As fans of the comedy series know, Penny and Bernadette work together and Kaley Cuoco's character accidentally let it slip at work that Bernadette is expecting.
Things are definitely going to get awkward between the two, but their relationship will take a turn for the better towards the end of the episode, when Bernadette admits that she hasn't been handling her pregnancy hormones that well.
Elsewhere in the episode, fans will see the Air Force trying to buy the guys' invention. A new character named Captain Williams will be introduced in this episode and he will be played by Dean Norris, who has been cast in a multiple episode arc. Captain Williams is an Air Force Officer and engineer who becomes interested in the guys' invention.
There isn't any information on the first episode of Season 10, which is expected to pick up immediately following the events of the Season 9 finale that saw Sheldon's mom and Leonard's dad going to his hotel room for a nightcap.
"I don't know what happened. I know they were getting along quite well, and left to go to the same hotel for a nightcap, and turned off their phones," showrunner Steve Molaro told Entertainment Weekly. "The details of exactly what happened, if we even ever find out all the details, will be left for the season premiere of season 10."
"The Big Bang Theory" will return to CBS in September.