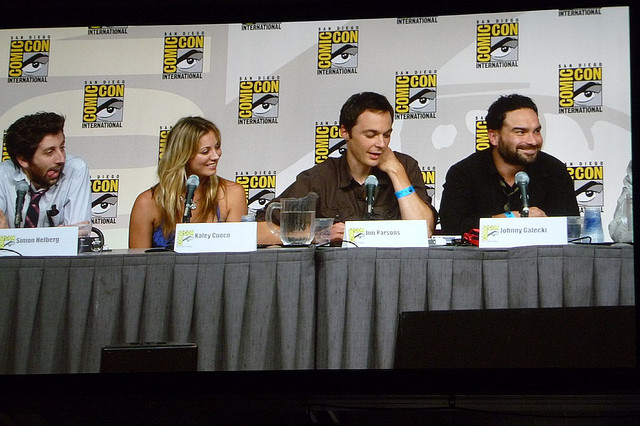 "The Big Bang Theory" cast members, on Thursday, tried to explain why the CBS show is "phenomenally popular" and the television's highest–rated comedy.
At present, the Chuck Lorre comedy is in its eight season, but still is a hit on the ratings list. At a time when most comedy sitcoms end up being a flop, cast members of "The Big Bang Theory", "Two and a Half Men", "Mike & Molly" and "Mom" tried to explain what has kept them going – Chuck Lorre.
Lorre has created several successful sitcoms since the 1990s.
The actors of the above mentioned show explained the reason for their shows' popularity to a group of TV critics at Warner Bros. Studios in Burbank.
Instead of recognizing the show's strong writing, cast chemistry, or even storyline; Jim Parsons, who plays "Sheldon" in the popular show "The Big Bang Theory", said that the best thing about the show was Chuck Lorre's musical background. He compared the comedy to a song.
"Chuck was a musician before he was a writer, and one thing all of these shows have in common is a rhythm. These shows [perform strongly when in repeats]. You've seen them three times, but it's like a pop song — it's got rhythm... He'll come in when we're rehearsing and clean it up," Entertainment Weekly reports.
Echoing the same, Simon Helberg – who plays Howard Wolowitz – continued by saying that Lorre has an instinct to identify what is funny and what is not. He said: "He's a barometer for the truth. Like Jim was saying about the rhythm, he has perfect pitch for the truth. You know if [we hear] Chuck laughing, you know the majority of people will also laugh."
Meanwhile, Bill Prady, producer for the show, said that it is not often one would find a show that the creator makes based on what he enjoys and not what the audience would. "To Simon's point, Chuck genuinely enjoys the shows he's producing—and that's not always true. Some make shows that they think others will enjoy," Prady said.
Summing up everyone's opinions, Melissa Rauch – who plays Dr. Bernadette Rostenkowski-Wolowitz on the show – said, "[Chuck is] the comedy whisperer."
We hope Lorre continues to make such comedies providing people some relief from their monotonous lives.