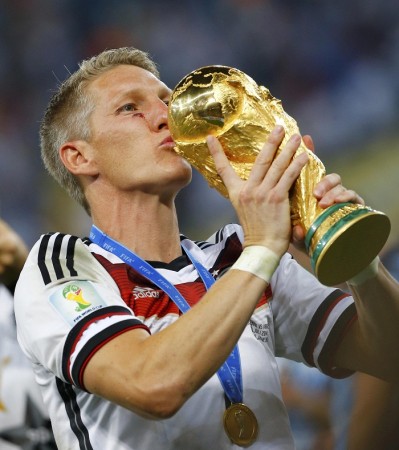 Veteran Germany playmaker Bastian Schweinsteiger is on the verge of completing a move to Premier League giants Manchester United, German tabloid Bild has reported.
According to the report, the Bayern Munich star has been offered a three-year contract at Old Trafford worth £140,000 a week, and the transfer fee is set to be in the region of £15million.
The 30-year-old has just a year left in his contract at Bayern Munich and it is believed that the chance to be reunited with ex-Bayern boss Louis van Gaal at Manchester United is one of the strongest reasons for the move going through.
Schweinsteiger played under Van Gaal at Bayern between 2009-2011.
Just days back, Bayern Munich chairman Karl-Heinz Rummenigge have the strongest hint about the player's possible exit in an interview, saying that Schweinsteiger was "flattered by the interest" he received from England.
"I make no secret about it that, in our telephone conversations in the last few days, I get the feeling he is flattered by the interest from England," said Rummenigge.
"Let's wait and see what happens. I talked to him during his vacation. We will meet each other, when he is back.
"Our plans are not finished yet. The window is open until August 31."
Even the Bundesliga club's Spanish manager Pep Guardiola had mentioned in the first presser of his club this summer that Schweinsteiger will make the decision over his future.
German legend Lothar Matthaus, also in an interview last month, stated that Van Gaal knows the strength of Schweinsteiger in every way and he would make him one of the best midfielders in the the world again.
"Schweinsteiger needs a coach who will play him according to his strengths, and Van Gaal will do that," Matthaus had said.
Schweinsteiger started his senior career with Bayern in 2002, and in a career spanning more than 10 years, the midfield maestro has appeared in 500 games for the Bavarian giants in all competitions.
However, the move for the German central midfielder also raises doubt about the playing time of Red Devils midfielder Michael Carrick now, as the Englishman is also deployed in a position similar to the German.
It can, however, be said that the England midfielder's injury-hit campaign last season forced Van Gaal to look into the market for another holding midfielder.
The Red Devils now plan to make Schweinsteiger their third signing this summer, after already snapping up Dutch winger Memphis Depay earlier this summer, and securing the future of Italian defender Matteo Darmian.
Darmian reportedly had his medical with the Red Devils on Friday, and it is believed the signing will be officially confirmed by the end of the day.