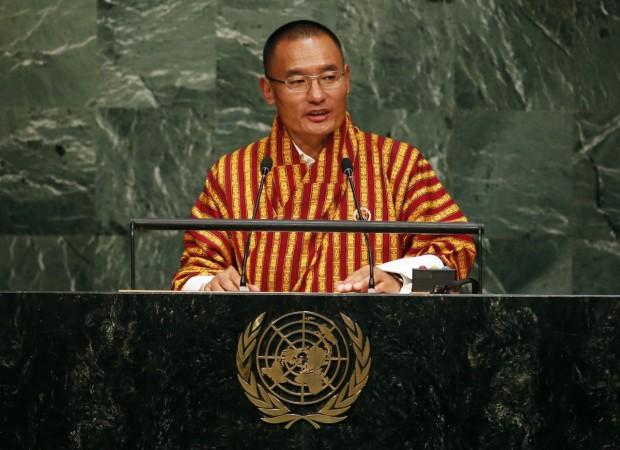 Bhutanese Prime Minister Tshering Tobgay will visit India on a three-day visit from July 5 to hold bilateral talks with his Indian counterpart Narendra Modi, it was announced on Tuesday.
According to the External Affairs ministry, Tobgay will also call on President Ram Nath Kovind. External Affairs Minister Sushma Swaraj and other ministers will also meet the visiting dignitary.
India and Bhutan are celebrating 50 years of diplomatic relations this year and "enjoy unique ties of friendship and cooperation characterized by utmost trust and mutual understanding", the Ministry said.
It added that Tobgay's visit "will provide an opportunity to both sides to hold discussions on issues of mutual interest and advance the exemplary ties of friendship". Both Prime Ministers are expected to deliberate on a range of issues including defence, security and strategic cooperation. Doklam is expected to be a key area of importance in the discussion, following India's stand-off with China there last year.
India is a leading development aid partner for the Himalayan kingdom. There are a number of institutional mechanisms between India and Bhutan in areas like security, border management, trade, transit, economic, hydropower, development cooperation and water resources.
New Delhi has set up three hydroelectric projects (HEPs) in Bhutan totalling 1,416 MW which is operational and export surplus power to India. About three-fourths of the power generated is exported and the rest is used for domestic consumption.
India is also Bhutan's largest trading partner. In 2016, bilateral trade stood at Rs 8,723 crore, with total imports being Rs 5,528.5 crore (82 percent of Bhutan's total imports) and exports recorded at Rs 3,205.2 crore, including electricity (90 percent of Bhutan's total exports).
This will be the fourth visit of Tobgay's to India, after his visit in February, where he was in Guwahati to participate in an investors' summit. He held an informal session with Prime Minister Narendra Modi during the summit. He also previously visited the Buddhist pilgrimage centre Sarnath in Uttar Pradesh in 2015.