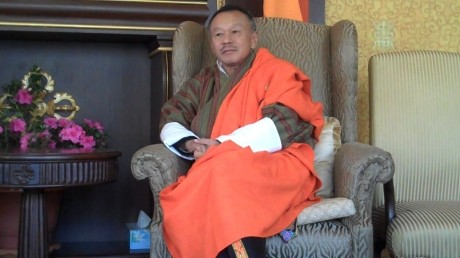 The tiny Himalayan Kingdom of Bhutan, India's only close and trusted ally, has begun the countdown for the second ever democratic general election scheduled to be held on 13 July. The historic moment has been marred by uneasy circumstances wherein Bhutan's relations with India has been strained over the latter's withdrawal of subsidies for the tiny nation's LPG gas and kerosene supply.
After months of campaigning and vast media coverage of the contestants and their manifestoes, Bhutan on Saturday will hold its second general election after the nation was granted the "gift" of democracy through a royal decree, which saw the first instance of a king abdicating his throne and granting people the right to elect their own leaders. While the country is currently ruled by an interim government until the results of the upcoming election begets a ruling and opposition party, the country is hit by a grave crisis after India withdrew its subsidies for LPG gas and kerosene supply, Bhutan's basic fuel for daily survival.
India's pull-out from the subsidies that took effect from 1 July, has led to the increase in gas and kerosene's price by more than double, effecting almost the whole of the nation which is home for a little over 700,000 people, many of whom survive on a comparatively low income.
Although there is no official note on the reason for India's decision, there has been wide-spread speculation that Bhutan's apparent closeness with China may have upset India. There is a general consensus that while India has been long struggling to maintain a peaceful relation with the neighbouring China over border disputes, India could not have taken lightly Bhutan's prospect of getting increasingly cosy with the Chinese government.
Bhutanese PM Jigme Thinley, who is currently campaigning for the second general election, had a meeting with the Chinese premier in Rio de Janeiro last year. The rapidly building ties with the northern giant led to Bhutan importing some 20 buses from China. India, which had historically been Bhutan's only ally and supported Bhutan's membership to the UN as well as hailed its exemplary transition to democracy, was taken by surprise by the unexpected developments.
Even after Thinley played down on his meeting and denied any growing ties with China, New Delhi has been reacting with caution. Adding to the growing unease, India has been reportedly annoyed because of the cost hike of power projects in Bhutan which it has been financing.
On 6 July, an interim government adviser in the finance ministry, Dasho Karma Ura wrote in the National newspaper Kuensel expressing the likelihood of India withdrawing subsidy on the export power tariff from Chukha hydro power project, one of the largest projects that exports electricity to the bordering Indian states of West Bengal and Assam.
Sonam Tobgye, the head of the interim government, has written to Indian external affairs minister Salman Khurshid seeking his intervention on the withdrawal of the subsidies, while Bhutan is yet to receive an official explanation of the issue.
The crisis comes at the exact time when the country is busy with election and came close on the heels of Chinese infiltration into Bhutanese territories, adding to the growing Indo-Bhutan tensions. The Bhutanese embassy in India said that they have no knowledge about it.
There have also been unfounded suggestions that Bhutan has lately been trying to build a Chinese embassy in Bhutanese capital, Thimphu. This particular issue has received mixed reaction within the country with some sensing imminent danger while others considering it to be an opportunity to create a promising economic future in Bhutan. The developments could have only irked India, a country that has been in a bitter rift with China for a long time.
Bhutanese officials would never comment on whether or not China has build three posts in Bhutan during their infiltration, nor would a journalist have an ability to report on it openly, for, the national TV and newspapers have more than 50 percent shares from the government. There hasn't been noticeable coverage on the issue in private newspapers either.
Bhutanese largely have been seeing the recent reports from Indian media as an unnecessary "interference" from Indians who are themselves gripped in a growing political furor with China. A recent Chinese infiltration into Indian territories is an example. While there has been no confirmations regarding the authenticity of the report about the latest Chinese incursion into Bhutan, Bhutanese writers have slammed "arbitrary" Indian judgements related to Bhutan's relationship with China.
"National interests of Bhutan have to rise over and above the politics of always playing the Indian tune. We are not just good neighbors of India. We are a good and reliable friend of India", Wangcha Sangey, a well-known political commentator wrote in his blog. "But Bhutan and Bhutanese are sovereignty unto ourselves. Therefore Bhutan's paramount national interests and affairs just cannot be only pleasing India. We have to please ourselves too!"
"Why do Indian media and politicians want to castrate Bhutan for the most harmless relationship effort with China?" he asked echoing the voice of many Bhutanese citizens.
Follow the writer in Twitter: https://twitter.com/sahaja_gopi