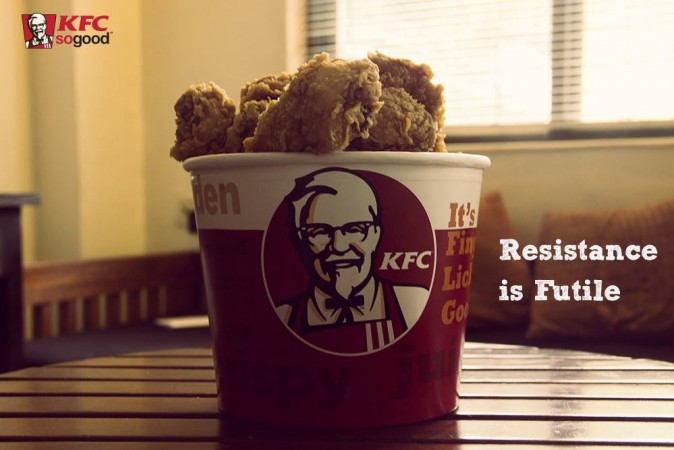 A group of Hindus and Muslims are jointly protesting against global fast food chain KFC while claiming that the multi-national fast food restaurant has hurt their religious sentiments as it serves jhatka chicken.
According to Islamic traditions, meat obtained by severing the head of an animal instantly, i.e., jhatka, is considered diseased and not fit for eating. Halal chicken or meat, which is obtained by making a deep cut on the neck of a bird or animal from which blood is drained out completely, is considered healthier.
Though Muslims claim that KFC has been serving jhatka chicken or meat in the name of halal chicken, Hindus have joined the protests to save cows. Protesters assembled at Iqbal Maidan and launched a signature campaign demanding a "KFC-free India".
Anam Ibrahim, campaign leader, claimed that 50,112 signatures have already been collected. He also warned of a protest next Friday at the KFC outlet in a shopping mall in MP Nagar if their demands are not met.
Though Ibrahim and others had lodged a police complaint against the KFC outlet a month ago, KFC employees lodged a counter complaint against Ibrahim and others for their creating ruckus at the outlet.
Ibrahim had claimed in his complaint that though the company did not have any certificate for halal chicken, it is cheating customers who might be eating the meat of any animal in the name of chicken. He substantiated his claims by explaining that when he had sought a halal certificate from the KFC outlet, the staff showed him a certificate issued by a mufti in Mumbai, Anwar Khan, to a company named Venky's for only 1,000 halal chickens, whereas KFC outlets in the country sold 2,000 to 2,500 chickens per day on an average. It did not have any mention of KFC on it.
Superintendent of Police Anshuman Singh said that the police is investigating both the complaints and added that he had also written to the Bhopal collector to see if it was a case of adulteration and violated provisions of Food Safety and Standard Act in order to verify Ibrahim's allegations.
On the other hand, Arun Chawariya of Balmiki Samaj, who represents the Hindus joining the signature campaign, explains that his protest was to save cows.
"We will continue our campaign till KFC closes its chain in the country," he was quoted saying to the Hindustan Times.
Another protester added that KFC must declare if it was selling halal or jhatka meat, where it procured the meat, what meat it was, and also if it had any certificate in this regard.
"If they are transparent, we don't have any problem. Then the option will lie with the consumers if they wish to have the kind of meat offered by KFC with a declaration," he said.
However, no scientific tests on the KFC food items were done by any of the groups.
KFC spokesperson denied the charges, saying: "KFC holds the highest respect for the law of the land and complies with all government rules and regulations. These accusations are baseless and seem to be driven with malicious intent to harm our brand."
"We serve chicken sourced from reputed Indian suppliers like Venky's and Godrej. We are always willing to provide consumers any clarifications they may require on the food served in our restaurants. We will be approaching the authorities to investigate this false propaganda and take appropriate action against those spreading misinformation," the spokesperson said.