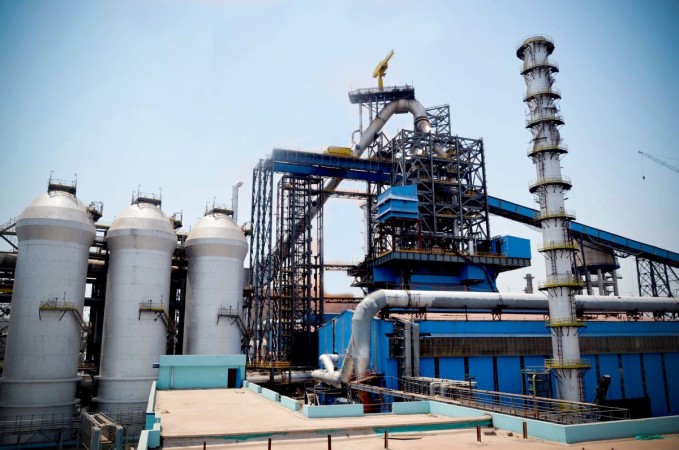 A gas leak occurred at the Steel Authority of India's (SAIL) Bhilai Steel Plant in Durg district of Chhattisgarh, killing at least six people and injuring more than 30 persons on Thursday.
According to reports, poisonous carbon monoxide gas leaked through the pipes when some repair work was being carried out in a blast furnace at around 6.30 p.m. on Thursday.
At least six employees of the plant including two Deputy General Managers were killed in the incident. More than 30 people, including Central Industrial Security Force (CISF) personnel, workers and officials of the public sector plant, were injured. Eleven of them are said to be in critical condition and have been admitted in the ICU of Jawaharlal Nehru Hospital, Bhilai, while the other injured persons are also undergoing medical treatment.
A statement issued by SAIL said, "We are deeply pained to learn that six employees have lost their lives."
"As per preliminary information, the main header of Pump House No 2 which supplies water to the Gas Cleaning Plants (GCP) of blast furnaces suddenly ruptured at around 6.10 PM.This resulted in sudden loss in water pressure to the GCPs and the blast furnace gas from the scrubbers entered the water pipeline affecting the people attending the breakdown in the pump house and in the nearby area," the statement said.
"Plant Management is providing all possible care and support and efforts are on for an early liquidation from the breakdown."
Chhattisgarh chief minister Raman Singh expressed grief over the incident. "My heart goes down for families of deceased @ BSP Bhilai.In touch with Union Ministers & local administration for relief & rescue operations (sic)," he tweeted.
Singh's Principal Secretary told CNN IBN that the injured persons have been undergoing treatment and the situation has been brought under control.
Steel Minister Narendra Singh Tomar has also expressed grief over the loss of lives and has sought a report on the incident. Tomar has also ordered a high-level probe into the incident and he is expected to visit the Bhilai steel plant on Friday.
This is not the first time that fatal accidents have occurred at the steel plant. In 2013, five persons died in a mishap and the plant has also witnessed 8 minor accidents in 2011, six in 2012 and 12 in 2013 and one in 2014, reported PTI.
The Bhilai steel plant is the 11-time winner of Prime Minister's Trophy for best Integrated steel plant in the country. The plant produces rails and heavy steel plates.