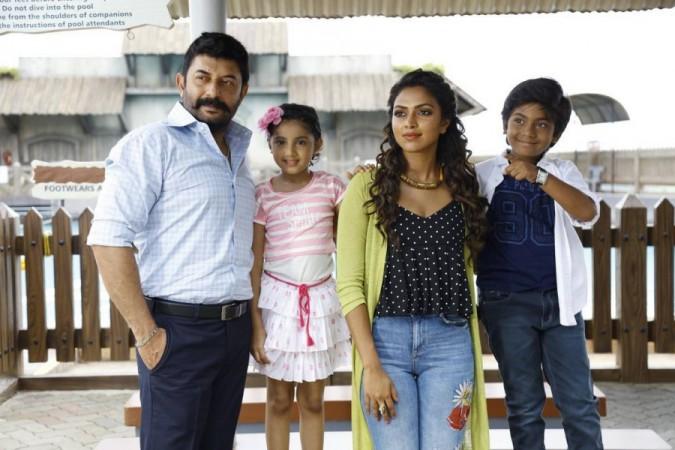 After an unexpected delay in the last minute of its release last week, Arvind Swami and Amala Paul-starrer Bhaskar Oru Rascal is ready to hit the screens on Thursday, May 17. It is a comedy drama which marks the re-entry of Malayalam filmmaker Siddique. His last Tamil movie was Kaavalan in 2011.
It is the remake of his own Mollywood flick Bhaskar The Rascal, which starred Mammootty and Nayanthara in the leads. Originally, the Tamil remake was offered to Rajinikanth.
The story of the movie revolves around the character of Bhaskar (Arvind), who is a widower and has a son. He is nicknamed Rascal by his friends and family as he gets into fights to uphold justice.
During a vacation, Bhaskar and his family comes across Vinitha (Amala Paul) and her daughter. She is a widower and runs her own business. The rest of the movie deals with the relationship between the duo.
The director has tweaked the script of Bhaskar Oru Rascal to suit the tastes of the local audience.
Soori, Aftab Shivdasani, Robo Shankar, Nikesha Patel, Riyaz Khan and others are in the cast. The film has Amresh Ganesh's music, Vijay Ulaganath's cinematography and KR Gowrishankar's editing.
Reviews:
The movie, which was held due to Kollywood strike, is releasing on May 17, has opened to mixed reviews from the critics and audience. Find their response to the film here:
Heytamilcinema: #BhaskarOruRascal - Interval
Comedy entertainer story of two children trying to bring their single parents together to live as one happy family.
Despite the let down by technical departments, the movie is 'OKAY' so far thanks to entertaining final half an hour!
Ramesh Bala:#BhaskarOruRascal [3/5]: A fun family action entertainer..
@thearvindswami rocks as rich Businessman/Father who gets into fights often..
@Amala_ams looked most beautiful in this movie..
Lot of comedians in the movie..
Kids will love it.. Will be a perfect summer treat..
Sridevi Sreedhar: #BhaskarOruRascal - @thearvindswami is in top form Actually he is one reason which makes the film a riot in the first half. Both the kids and @Amala_ams A watchable entertainer
Ramnath Shankar: #BhaskarOruRascal 1st half : To be true I loved the first half of the movie . It was different from a regular commercial movie with its fair bit of action , comedy, songs.. The relation between @thearvindswami and his son , @Amala_ams and nainika was good ! Entertaining so far
Kaushik LM: #BhaskarOruRascalFromToday
- @thearvindswami was effortless, swag in a mass role
- the kids, Nainika and Raghavan, did well
- @Amala_ams was gorgeous, stylish as a young mom
- Blend of comedy and family sentiments.. #BhaskarOruRascal
Haricharan Pudipeddi: #BhaskarOruRascal. A needless, lousy remake that's salvaged by a few laughs here and there. Arvind Swami goes ballistic in a full-length commercial role which doesn't quite suit his image. Amala has very little to nothing to deliver.