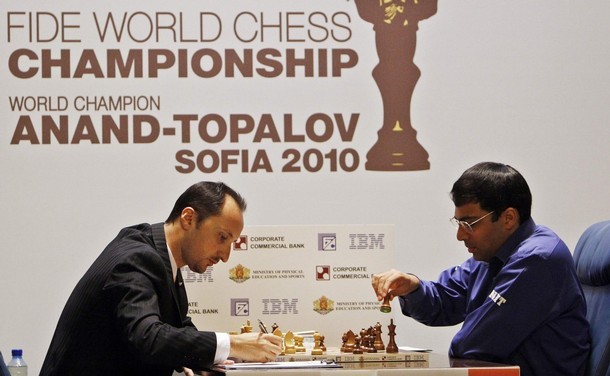 World chess champion, Viswanathan Anand is the new kid on the block in the race for Bharat Ratna award under the sportsman category. Hockey legend Dhyan Chand and cricket star Sachin Tendulakar are the other contenders.
After retaining his world champion title for the fifth time in a row, beating Boris Gelfand of Israel in Moscow, Anand's achievements and his contribution to the Indian sports fraternity have created buzz on whether he should be conferred with the greatest civilian award- Bharat Ratna.
Some even suggest that the first Bharat Ratna be awarded to Anand even before Sachin. Incidentally, so far no sportsperson has been conferred with this award
It all started with Tamil Nadu chief minister J Jayalalitha suggesting Anand's name for this particular award, saying he deserved it, for which already Dhyan Chand and Sachin names have been recommended.
Dhyan Chand is one of the greatest hockey players of all time, who led India to win the Olympics Gold medal for three successive times in 1928, 1932 and 1936. He played his last international match in 1948 and ended his successful career with record of scoring over 400 goals.
Meanwhile, it is needless to tell about the record Sachin Tendulkar has created or broken. He is the only cricketer in the world who has scored 100 international centuries. he also helped India lift the World Cup.
Anand, became India's first grandmaster in 1988, and has been an undisputed World Champion since 2007. He has defended his world chess champion title for five times. He has been conferred with Rajiv Gandhi Khel Ratna, highest sportsman award in the country. He was the first sportsperson to receive the Padma Vibhushan award, the second highest civilian award.
Moreover, Anand has repeatedly proved that he is the greatest chess talent that the country has ever produced.
However, Dhyan Chand, Sachin and Anand come from different sports background; each has excelled and created a benchmark in their respective arenas. Thus, comparing these sports legends in terms of achievements would make no sense.