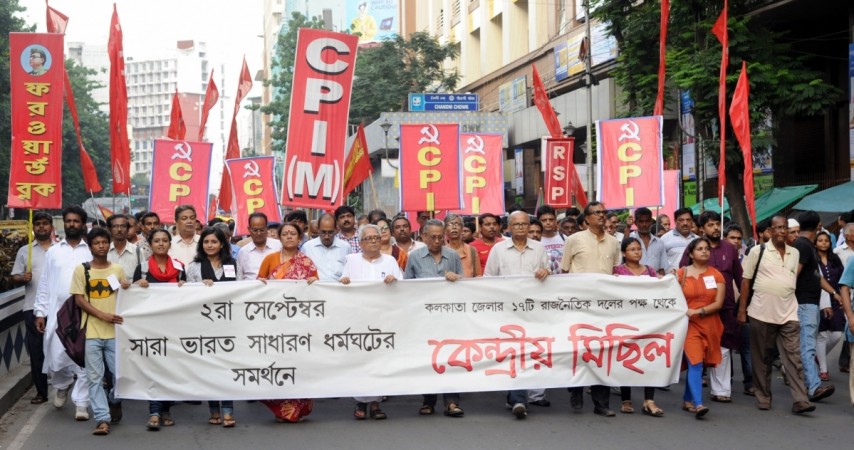 Trade unions across India, except the Rashtriya Swayamsevak Sangh-linked Bharatiya Mazdoor Sangh, have extended support to the Sept. 2 nationwide strike demanding a higher minimum wage, containing price rise, social security and others.
Normal life is expected to be affected on Friday as state unions, like Karnataka's four transport corporations, have also extended support to the bandh.
Government employees have been issued a notice that they have to report to duty on Friday except cases like hospitalisation, death in the family, if they were already on leave, or their leave was earlier approved, maternal and child care leave, etc.
While railways will not be affected as the employees have not said that they're joining in, banks, factories, insurance companies and many government offices will likely be closed.
Sectors like electricity, mining, defence, oil and gas, and telecom will also be affected due to the call for Bharat Bandh by almost 20 trade unions.
Office-goers, college and school students will face problem in travelling to their destination as in some states autorickshaws and cabs also may not ply on the roads. For example, autorickshaw and cab associations in Bengaluru have extended support to the strike that will last from 6 am to 6 pm.
Autorickshaws in Delhi, Hyderabad and Bengaluru will not be available on Friday.
Academic institutions have not confirmed if they will be shut on Friday. All districts have been given the freedom to decide depending on the availability of transport.
Emergency services like pharmacies will be open on Friday. Commodities like milk and water are also likely to be available.
In Kolkata, Chief Minister Mamata Banerjee said that she is against the nation-wide strike. However, many Left-wing unions from Bengal have said they would join the strike.
In Mumbai, autorickshaw and cab associations will not participate in the strike.