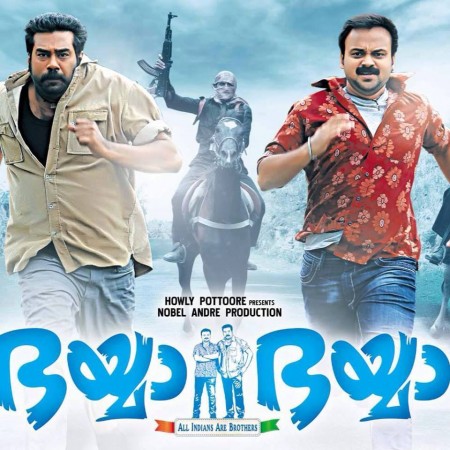 The much awaited trailer of the upcoming Malayalam film "Bhaiyya Bhaiyya", starring Kunchacko Boban, Biju Menon and Nisha Aggarwal in the lead is released.
The 1.25 minutes long trailer introduces the character of Kunchacko Boban (Babu) and Biju Menon (Babu Ram), which is narrated by them and Suraj Venjaramoodu.
The trailer indicates that the film is going to be a laughter riot. Babu Ram's narration with his wrong Malayalam wordings gives us the glimpse of possible troubles the duo will get into because of the language problem.
The trailer starts with the duo's journey to Bengal, though the reason is not revealed. But, the voice over by Suraj's character suggests that they are forced to leave Kerala because of the mess they have created back home.
The trailer also introduces the film's other characters, including Angel Varkey played by Nisha Aggarwal, who is also the love interest of Babu, Maikkadu Shanthi played by Vinutha Lal, Vasanthi played by Thezni Khan, future Chief Minister Vettuparambil Varkichan played by Vijay Raghavan, his son Vettuparambil Monai played by Shammi Thilakan, Babu's father contractor Chacko played by Innocent and Kora played by Salim Kumar.
The film's team had earlier released its teaser and movie making video.
The animated teaser of "Bhaiyya Bhaiyya" shows how the lead characters met when they were kids. Their relation begins when Babu Ram was brought from Bengal to Kerala by Babu's father Contractor Chacko.
The narration mentions that this was the first Bengali migration to Kerala. Both the kids grew up together and became inseparable. The teaser gives an indication that the film tells the story of their brotherhood and love. Watch the teaser here.
"Bhaiyya Bhaiyya", directed by Johny Antony is slated to release this Onam.
The film's music is composed by Vidyasagar and the lyrics are penned by Vayalar Sarath Chandra Varma, Santhosh Varma and Murukan Kattakada.
The film is produced by Laisamma Pattore under the banner of "Howly Pottore".