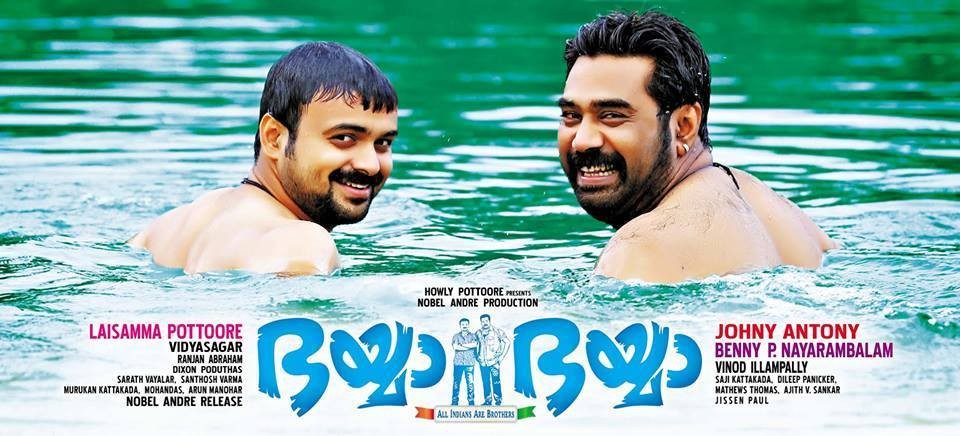 "Bhaiyya Bhaiyya", directed by Johny Antony, released on 6 September opens to average reviews.
In the film, Kunchacko Boban and Biju Menon are seen as brothers though they are not related by blood. They are suppliers of migrant workers from Bengal to different working sites in Kerala.
The film will take its course when they travel to Bengal, where they will face some problems and the story revolves around how they come out of these situations around them.
The film also has Nisha Aggarwal, Suraj Venjaramood, Vinutha Lal, Vijay Raghavan, Shammi Thilakan, Jacob Gregory, Jayashankar, Thezni Khan, Innocent, Suraj Venjaramood and Salim Kumar in pivotal roles.
The film's music is composed by Vidyasagar and the lyrics are penned by Vayalar Sarath Chandra Varma, Santhosh Varma and Murukan Kattakada.
The film is produced by Laisamma Pattore under the banner of "Howly Pottore".
Here is the review of "Bhaiyya Bhaiyya" by various critics:
"Like the film Ordinary and few others to follow, in Bhaiyya Bhaiyya as well, the use of slang is tried out but with limited success and no impact at all. Its an uninspiring and dull storyline that acts as the party spoiler. As an entertainer the film has some moments that will go well with the audiences but all these are scattered at several places. Humour quotient is there but in very limited dose and hence people expecting a laugh riot with the presence of Suraj and Salim Kumar along with the two leading men will be a disappointed lot as there are very few moments to tickle your funny bone, " said Chandra Mohan Gopinath, Medsho.in
"The first half of the film which tells the flash back story ends in a good note. Though, the second half has many comic sequence, it is not sure how many are going to enjoying them. The film is meant for children and there is no doubt they are going to enjoy it," Nikhil, Manorama Online
"Rate of change of focus of the plot of the movie Bhaiyya Bhaiyya is directly proportional to blink of your eyes. Yes I am saying this because the film does not have a specific goal. The script is a disjoint canvas where Benny P Nairambalam has written unbaked scenes taken from his own filmography. Johny Antony doesn't show any improvement in his making. A large portion of the movie is dull and the humorous section is isolated from the film. Bhaiyya Bhaiyya is a disappointing film that fails to utilize the hit combo of Kunchako Boban and Biju Menon. The "switch off logic" disclaimer is a must for this movie," said Aswin Bharadwaj, Lensmen reviews.com