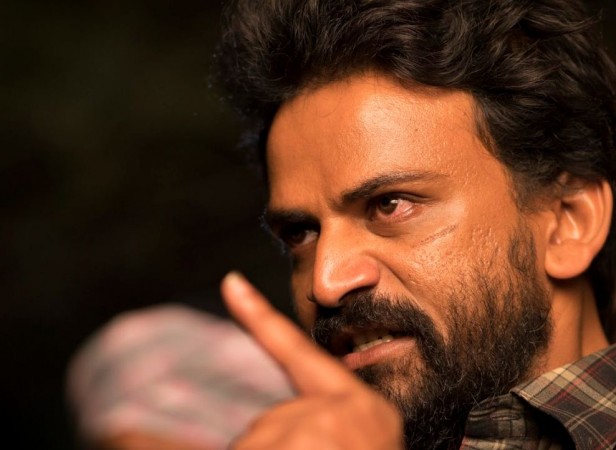 Dhananjaya has forayed into Telugu film industry with his latest movie Bhairava Geetha. He has collaborated with 23-year old debutant Siddhartha Thatholu. The project is funded by well-known filmmaker Ram Gopal Varma.
Irra Mor plays Dhananjaya's love interest in Bhairava Geetha. The film has Ravi Shankar's music, Anwar Ali's editing and Jagadeesh Cheekati's cinematography.
Story:
The story of the movie is about a man from the oppressed class standing up against social injustice. An innocent played by Dhananjaya turns a hero to fight against the feudal-minded people. The violent story has a beautiful love story laced into the main plot.
Hype:
Bhairava Geetha has been simultaneously shot in Kannada and Telugu languages. However, the Sandalwood version is releasing this Friday, December 7, while the Tollywood version will be out next week.
The film has piqued public interest with its violent trailers. Dhananjaya's looks and performance have built a lot of curiosity around the bilingual film. Will the film live up to the viewers' expectations? Find it out in the viewers' words below:
Shiva C Biradar: 1)Attempt of showing domination b/w reach people on poor people in #BhairavaGeetha by @ThathSidd was good.
2) But exploring and dig out the intensity of the inner potential of @Dhananjayaka is not yet came out, which can be done by @RGVzoomin himself as he found him in his eyes
Harini Karengala: My friend who watched #BhairavaGeetha in INOX at Malleswaram said it's an intense love and realistic action story and @Dhananjayaka killed it. And the most surprising element is the work of the new director. It's a must watch in Telugu is the review I heard.
Riyaz Darshan: #BhairavaGeetha
Superb Film
Another hit For Dolly Anna
@Dhananjayaka
Chandan: Second part is the best in bhairavageetha movie. Just loved every bit of it. ❤️❤️❤️❤️ @Dhananjayaka excellent performance.
anjan: The first half of the #BhairavaGeetha neatly stitched.. .@ramgopalverma20 story has an enough meat..
.@RGVzoomin hs written a Desi Triumphant story. D raw dialogues on slavery connects with the masses & hits a bull eye .@Dhananjayaka lived D character! .@Irra_Mor supports D momentum. Background music impressiv. #BhairavaGeetha ll nt dissapoint u!! Go for it