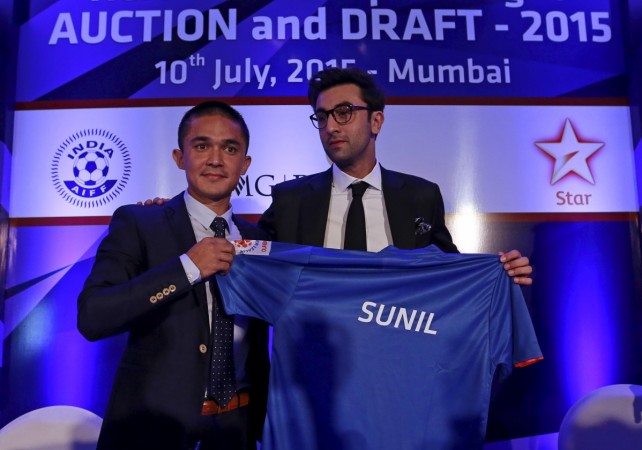 Praful Patel, president of the All India Football Federation (AIFF) has said that Indian star football players such as Bhaichung Bhutia and Sunil Chhetri used to seek support from him for the Indian Super League (ISL).
This in a way, led to the ultimate formation of the ISL.
"All players wanted the ISL. Players like [Bhaichung] Bhutia and [Sunil] Chhetri used to come and tell AIFF that we must support such initiatives," Patel told The Times of India.
"The players wanted it, fans loved the idea and we agreed. After one season, there are some issues which we have discussed with IMG-Reliance," he added.
The inaugural edition of the ISL was a huge success and was lapped by all the footballers in the country. Legends such as Bhutia and Renedy Singh came forward to lend support to the tournament, and although Chhetri didn't participate in the ISL last year owing to contractual obligations with Bengaluru FC, he is a part of the upcoming edition of the league.
The highest scorer in an Indian football team jersey was snapped up by Mumbai City FC in the ISL player auctions earlier this year for a whopping Rs 1.20 crore.
Patel said that the ISL has also become glamorous, though in a modest way.
"The ISL has brought in some glamour. People have started coming to the ground and players are being paid well. It's (made) a good beginning. But, we also feel the need for the I-League to be longer, a minimum of seven months."
The issue of merging the ISL and the I-League and introducing a single football league in the country has dominated the news in the last few days, with India coach Stephen Constantine, football fans as well as AIFF officials giving their views on the subject.
However, on a realistic basis, Patel said that the execution of such an idea will take some time.
"A decision regarding one league cannot be taken on the spot. We will have a small working group and see how to take this idea forward," said the former civil aviation minister.
"Clubs feel the start of ISL was the end of the I-League, a belief now strengthened with the uncertainty surrounding two I-League clubs [Pune FC and Bharat FC], if not more. I don't think that's true. We have had new clubs in the I-League; some may go, some may enter, but all the legacy clubs are still part of the league," he added.