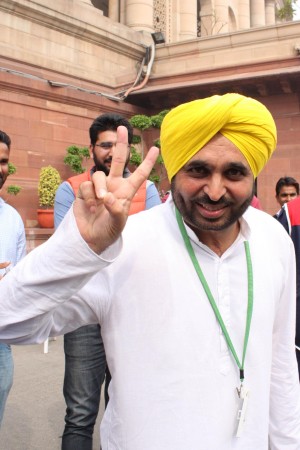 Aam Aadmi Party MP Bhagwant Mann kicked up a storm after he uploaded a video of security pickets and internal security positions of Parliament on social media, which according to his critics jeopardised the safety of his fellow parliamentarians.
"Is it illegal, inappropriate to post a video which shows procedure of how questions are taken up in Parliament during question hour," Bhagwant Mann was quoted as saying while he defended his actions to press reporters by arguing that he was just showing people how Parliament functions.
Mann reportedly said that his intentions were to educate the public about parliamentary procedures such as submitting of questions for the zero hour.
"How lucky draw is taken out that decides who are going to speak in Parliament? Is it inappropriate to tell all these things to people, who have voted and sent us here to raise their problems? Telling about the procedure involved in raising a question is illegal," said Mann justifying his action.
Mann was forced to offer justifications after BJP's RK Singh fired shots at Mann as he termed Mann's actions as "highly irresponsible."
"He (Bhagwant Mann) should have had some sense. There already has been an attack on Parliament," said Singh, according to a report by Chandigarh Tribune.
BJP MP Meenakshi Lekhi also said the matter needs to be probed to ascertain "if it was an act of foolishness or if it was done under the influence of some agencies."
"Kya meri video se sansad khatre mein aa gyi. (Did my video pose a security threat to Parliament)… I will post a video again tomorrow. Let me be served a notice," retorted the defiant AAP MP.