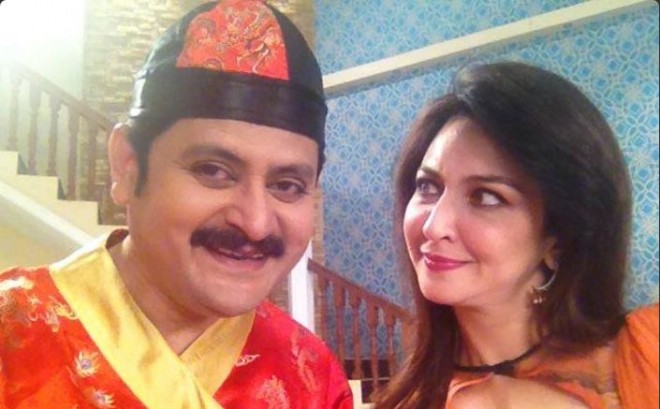 There seems to be no end to the "Bhabi Ji Ghar Par Hai!" controversy. Even after being directed by the Cine & TV Artistes' Association (CINTAA) to resume shoot, Shilpa Shinde's decision not to return to the sets has left her co-stars disturbed.
Rohitashv Gour, who plays the role of Manmohan Tiwari, is shocked with Shilpa's accusation that her co-stars are insecure of her. "Humare show ko kisiki nazar lag gayi hai (our show is under the spell of an evil eye). I have no clue why she is blaming us. We are all friendly on the sets. Aasif ji used to get food for all of us too. The allegations are really shocking," Rohitashv told Tellychakkar.com.
While Shilpa accused the production house of mental torture, Rohitashv said that the producer of the show is caring and a good human being. "It is definitely disturbing us and we hope she comes back. We are ready to welcome her. Our producer is a good human being who's caring and gets along well with all the actors and crew members on the sets. We all work, pack-up on time and have good facilities here," he said.
Talking about whether Shilpa shared her problems with her co-stars, the talented actor said that Shilpa never spoke to them about any of her problems nor was he aware of the fact that she was given two hikes in a year until recently.
CINTAA had directed Shilpa to resume shooting for the show as she had signed an exclusivity contract with the production house and cannot decide to quit the show midway. With Shilpa not returning to the sets, the producer of the show, Binaifer Kohli, will be taking legal action against the actress. Kohli had earlier slammed Shilpa for breaching her contract, which stated that the actress would work for the production house as long as the show is on air.
Speculations were also doing the rounds that Shilpa had decided to quit the show to be a part of "The Kapil Sharma Show." But with the legal proceedings underway, it is unlikely that Shilpa will be able to be a part of "The Kapil Sharma Show."