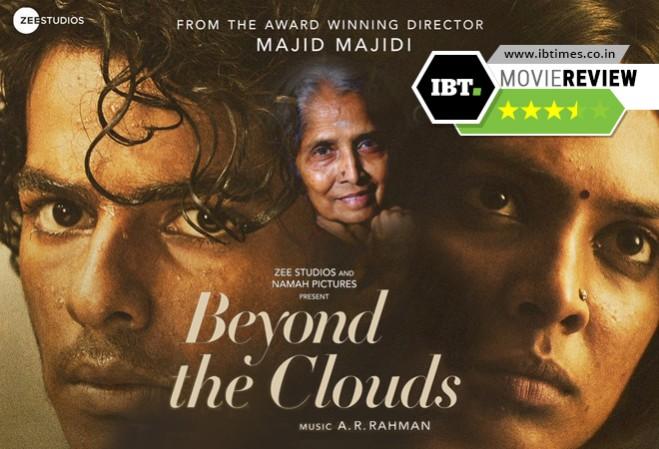 Rating: 3.5/5
Movie: Beyond the Clouds
Cast: Ishaan Khatter, Malavika Mohanan, GV Sharada, Gautam Ghose, Tannishtha Chatterjee
Director: Majid Majidi
Genre: Drama
Storyline
Shot in Mumbai, Ishaan Khatter plays the role of Aamir, a young street-smart drug supplier who loves taking risks and is not afraid of what life throws at him.
His sister Tara, played by Malavika Mohanan reaches jail after she hits Akshi (Gautam Ghose) for trying to rape her. Next thing we know is that Akshi is in a hospital and Tara is in jail awaiting trial for attempted murder.
The story revolves around the siblings — Aamir trying to help Tara to get out of jail because if Akshi dies and doesn't confess, Tara is stuck in jail forever. A story of redemption, hope, and humanity.
Performances
Ishaan Khatter has definitely stood out in the film. There surely must have been a pressure of being Shahid Kapoor's brother and whether the audience will accept him in his debut film — but let me assure you that Ishaan not only convinces with his relatable acting but nails it. His terrific performance in the film is a delight to the eyes — he can fight, dance, smile, be funny and a lot more. Was this really your debut Ishaan? Because this boy has layers and I can't wait for his next 'Dhadak'.
Malavika Mohanan looks beautiful and justifies her role as Tara but unfortunately, I couldn't relate to her emotions and the struggle she was going through much.
Ishaan and Tara build their own little world with the circumstances they are in and both involve little kids. Their journey is worth experiencing.
Positives
Where to begin?
The USP of the film is Akshi's family — two child actors along with veteran south Indian actress GV Sharada (a three-time National Award winner) deliver a solid punch and will leave you stunned with their performance. Their bond with Aamir (Ishaan) is endearing and will bring tears to your eyes.
Tannishtha Chatterjee who plays one of the convicts in the jail has a small yet an impactful role.
The background music by AR Rahman is intense — especially when the cops chase Aamir and the score behind is of fast-paced tabla and other Indian instruments playing — will bring goosebumps. The entire chase is shown beautifully — covering Mumbai right from Yari road, Dadar Kabutarkhana, and dhobi ghat.
Dialogues by Vishal Bhardwaj are clear, straight and real. Talking about some small elements which will linger on even after the movie are: Playing with shadow — be it Aamir dancing on Prabhudeva's number behind the curtain or the rape scene that happens at dhobi ghat behind the clothes. Shadow plays an important part in the film. My another favorite scene was the wall painting with crayons.
Director Majid Majidi has beautifully touched on some social subjects like — poverty, prostitution, drugs, social injustice, the situation of convicts in jail and importance of family.
The film ends on a very unexpected note — which I feel is the beauty.
Negatives
The film was long. It could have easily been shorter and the intermission was abrupt which was annoying. There were no subtitles for the part where GV Sharada's character was trying to communicate with Ishaan which left us confused. Typical Bollywood cliché elements were used to bring forward the emotional moments.
It was unclear whether Tara and Aamir were blood related or was she her foster sister?
And since when does it rain in Mumbai during Holi?
The movie reminded me a bit of Salaam Bombay and Slumdog Millionaire but kudos to Anil Mehta's cinematography, which shows the reality of Mumbai in a beautiful way.
Verdict
Beyond the Clouds definitely conveys the message that there is always a silver lining and should be seen for some wonderful performances by Ishaan, GV Sharada and child actors. This film has problems but will leave you smiling in the end.