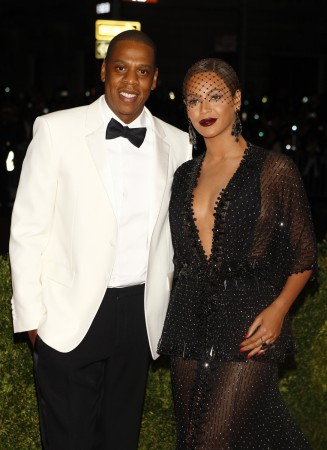 Hip Hop's power couple Beyonce and Jay Z were a no-show at Kim Kardashian and Kanye West's wedding, despite the two rappers being somewhat like brothers. And now, recent reports reveal that Beyonce might be the force that's keeping the two rappers apart.
Celeb Dirty Laundry reported that Beyonce was the one who prevented Jay Z from attending Kimye's wedding, and now, she is also reportedly unhappy that her husband has sent an "extravagant" wedding gift -- a bottle of Chianti that's dipped in gold and has a diamond cork -- to Kardashian.
Reportedly, Beyonce is at a loss to understand why Jay Z was "wasting so much as a penny" for Kardashian, especially when she has asked the rapper to cut off all contacts with West as well as the Kardashians.
It remains to be seen if there is any truth to the story, but off late, a lot of reports doing the rounds indicate that all might not be well between the formerly close Jay Z and West. Days before the wedding, it was rumored that Jay Z would be West's best man, but later, reports indicated that Jay Z thinks Kimye wedding is highly blown out of proportion.
"Jay thinks the entire Kimye wedding is a joke and it's being blown way out of proportion," a source told Radar Online.
"He likes Kanye and Kim, but totally talks smack about them behind their backs. When he was asked about the wedding he just laughed and said, 'The circus goes to Paris!'"
An insider added that Beyonce decided to stay away from the wedding because she found it tacky and did not want cameras filming her every move.
"Jay and Beyoncé's wedding was shrouded in secrecy and extreme lengths were made to make sure their wedding was an intimate affair for friends and family, only. This will be the complete opposite. She thinks it's just tacky," the source told Radar Online.
"Beyoncé's motto has always been, less is more. But clearly when it comes to Kim, more means more."
Meanwhile, Queen Bey is currently in the midst of a cheating allegation as several reports claim that the singer is having an affair with her bodyguard Julius Boer. Reports swirling around suggest that a divorce is imminent as Jay Z suspects that his wife is romantically involved with Boer.
"Jay definitely thinks that there was and may still be something romantic going on between Bey and Julius," an insider told Star magazine, Mstarz reported. "He wanted to fire Julius last February, but Beyonce said, 'Julius isn't going anywhere.'"
"They've spent a lot of time together behind closed doors," the source explained. "He's even stayed in her hotel room."