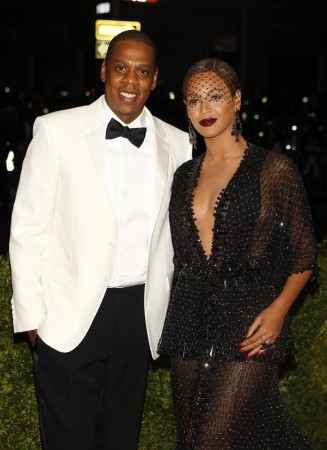 Beyonce and Jay Z are said to be trying to hide their marriage trouble but reports suggested they are not on talking terms with each other.
According to reports, the couple has been trying to the world that everything is alright by posting oictures with Solange on a dinner outing, and Beyonce even posted fun pictures with Jay Z and Blue Ivy but reality seems to be different. It is reported that they rarely speak to each other during their "On The Run" tour.
"Beyonce's not the type of person to let the media have the last word, even if her private life is in tatters. As such, she and Jay-Z have been making plenty of public appearances recently, trying to portray the image of a happy family," reported Celebdirty Laundry.
It was also reported earlier that the high profile couple has hired marriage counselors but it didn't work.
"They are barely speaking to each other. After they perform they go off separately," a source told Hollywoodlife. "There's a ton of tension, they're not happy. It's all for the cameras."
For those who are not aware of the ugly side of the celebrity couple, Jay Z and Beyonce's sister Solange had a major showdown in an elevator after MET gala after party. The video released showed Solange hitting Jay Z while Beyonce stood watching. This brought Beyonce and Jay z's wedding troubles in public and gave rise to various theories surrounding their relationship.
For now, the couple is said to be trying to find out a way to separate without officially divorcing.
"They are trying to figure out a way to split without divorcing ... This is a huge concert tour and they've already gotten most of the money from the promoters up front," an insider told Page Six.
It is also said that a recent dinner Beyonce and Jay Z had with Solange at Kingfish restaurant in New Orleans was just for public display.
"I have no clue why they ate with Solange, other than to all be photographed together. Bey and Solange are very close," the source further revealed about the couple's dinner with Solange on July 22.