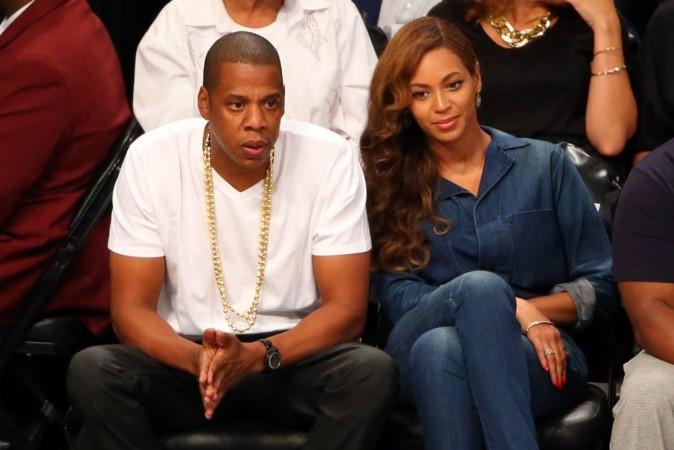 Celebrity couple – Beyonce and Jay Z – wrapped up their "On The Run" tour on Wednesday in San Francisco amid reports of their divorce. They haven't talked about the status of their marriage but several reports claimed that they are on the verge of parting ways.
However, it looks like the duo is trying to save their marriage at least for the sake of their 2-year-old daughter Blue Ivy, as they keep posting family photos on social media as if to send out a message that they are still together despite reports of their divorce.
Once again, Beyonce has posted a family photo on social media. She uploaded a photo of her husband Jay Z carrying Blue Ivy on Instagram as they walked towards the family's private jet. The caption of the picture reads: "Thank you San Fran! Your city is beautiful. It was the perfect place to complete the best tour of my life! Thank you to all the fans that supported our show. God bless."
Beyonce and Jay Z successfully completed their "On The Run" tour in San Francisco on Wednesday despite rumors of their breakup and that they were not even on talking terms.
Interestingly, onlookers at their concert at AT&T Park said that the couple looked tired on stage and Beyonce's eyes looked red.
"Beyonce's eyes on the screen looked red," an observer told Us Weekly. "They gave each other a squeeze and a tickle," the eyewitness said. "She still seemed unfazed and managed a smile before slipping away from him."
"You could definitely tell that something was off with them," the insider told the magazine. "It felt very frosty. Normally they kiss and seem affectionate, but for this show there was just a quick peck at the end."
Beyonce also sang her song, "Resentment," and she changed the lyrics of the song once again, fueling rumors of their break up. The original line, "Been ridin' with you for six years," was changed to "Been ridin' with you for 12 years." Coincidentally, the duration of their relationship is 12 years.
It was earlier reported that the couple was may live separately or even resort to divorce after their tour.
"There's face-saving involved - they don't want to be looked at like other celebrities out there," Page Six quoted a source. "They are business people first, entertainers second. Husband and wife comes somewhere down the line."
"There's still something there, even though it's not going to last," the source added. "Business is always part of the equation. They know they're the king and queen of hip-hop - and really, all of music. Neither wants to lose that."
It is also reported that the couple is travelling with marriage counselors, though it's not been confirmed yet.
Hollywood Life quoted a source, saying that the couple is barely speaking to each other. "After they perform they go off separately," adding: "There's a ton of tension, they're not happy. It's all for the cameras."
The elevator fight between Beyonce's sister Solange and Jay Z back in May had sparked off several speculations about the celebrity couple's marriage. Beyonce was in the elevator when the fight happened but did nothing to prevent Solange from attacking Jay Z, sending out a clear hint that she was not happy with her husband.