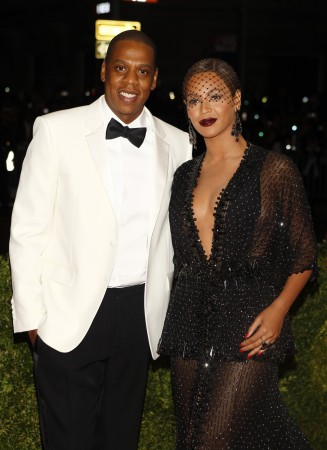 Beyonce is allegedly pregnant with her second child, and the singer plans to announce the news during one of her shows at her ongoing "On The Run" tour.
These claims are being made by Media Take Out, and it stated that the story is based on "100% FACTS."
The gossip website claims that Beyonce is four months pregnant, and recent photographs of the singer shows a bulge in the tummy area.
Reportedly, a source close to Lil Kim too confirmed the news to Media Take Out.
"Lil Kim came back and told us that Bey's pregnant. . . Kim bought a bottle of champagne for her old friends Jay and Bey - but Bey didn't drink any. Kim asked her 'what's going on are you . . .?' and before Kim could finish Beyonce just started smiling and said yes," the source said.
It remains to be seen whether the news holds any truth, as this is not the first time Media Take Out has come out with a report claiming the Beyonce is with child.
News of Beyonce's second pregnancy has been doing the rounds ever since her Met Gala 2013 red carpet appearance.
At the time too, the gossip website claimed that "this is not rumor - IT'S FACT. Bey's been wearing BELTS . . . and other things to cover her STOMACH for a few weeks now."
A few months later, she appeared on "Good Morning America" and said that she would want daughter Blue Ivy to have company soon.
"I would like more children. I think my daughter needs company. I definitely love being a big sister and at some point when it's supposed to happen. My biggest job in the world is to protect my daughter and I am very protective," Beyoncé said, according to MTV.
"I just want to make sure that she can have a healthy, safe, normal life. I feel really, really just lucky that I can still do what I love and now have a way bigger meaning, and that's to be her mother."
Beyonce and her husband Jay Z have been in the middle of a number of controversies ever since a video of Solange Knowles attacking Jay Z went viral. Since then numerous reports have claimed that the couple is on the verge of divorce, and the rapper has even been accused of cheating on his wife.