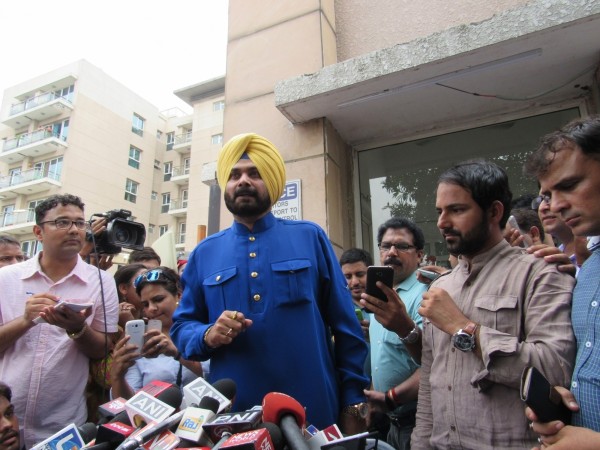 Former cricketer and Rajya Sabha Member Navjot Singh Sidhu said on Monday that he resigned from his position in the Parliament because he was told not to "look towards Punjab." He said that "if this was the first time I could have still tolerated, this is the third or fourth time this has happened."
He said that he can't abandon his state Punjab and continue fighting elections from elsewhere.
"I was told to fight election from Kurukshetra, then West Delhi. I said no, I wont betray my people," he said.
He also blamed the prime minister during the press conference. He led a sharp attack against the Bharatiya Janata Party (BJP) on Monday and blamed it for dashing his hopes of standing for elections from his state over and over again.
"I drowned in the Modi wave, along with the adversaries," he added.

If told to choose between the party, his family and Punjab, he would always choose Punjab, he said.

"Where Punjab will benefit, you will find me standing there. I only want to serve Punjab and Amritsar," Sidhu said.
He did not mention his future political plans, even though he slammed the BJP. He has not revealed if he quit BJP or joined Aam Aadmi Party (AAP), though speculations were rife that this was the most likely course of action for him. He is also believed to harbor chief ministerial ambitions.
Sidhu garnered media attention last week when he quit his Rajya Sabha seat, to which he was elected recently. He was reportedly miffed with the BJP for handing the Amritsar ticket during the Lok Sabha elections to Arun Jaitley.
Sidhu's wife, Navjot, an MLA in Punjab is also likely to quit the BJP for AAP. However, the BJP party chief Vijay Sampla said that Sidhu was still a member of the party on Sunday.
"Sidhu has resigned from the Rajya Sabha, not from the BJP. He may have some personal reasons but he has no grudge against the BJP," Sampla had said.
However, Sidhu's statement during the Monday press conference in Delhi shows that it is his grudge against the BJP that led to his resignation from Parliament. He had earlier called the Rajya Sabha seat "a mere burden."
Where Punjab will benefit, you will find me standing there. I only want to serve Punjab & Amritsar: Navjot Sidhu pic.twitter.com/CFNDSFsEZE

— ANI (@ANI_news) July 25, 2016