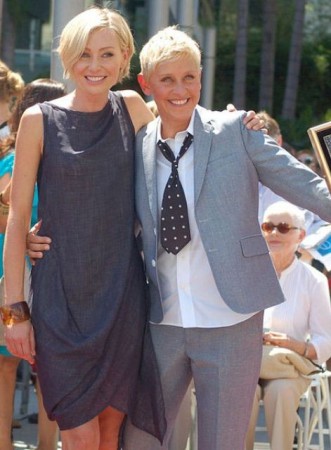 Ellen DeGeneres and Portia de Rossi may not be that happy a couple; at least that is what Bethenny Frankel's ex Jason Hoppy is saying.
Reports suggests that Hoppy learned about the sad state of DeGeneres and de Rossi's marriage, when the TV host started producing Frankel's defunct talk show. Rumor has it that Frankel once got drunk and spilled the beans on DeGeneres' marriage to Hoppy and now the latter is threatening to go public with details, reported CelebLaundry.
DeGeneres and de Rossi's crumbling marriage has made headlines lately.
Regarding her crumbling marriage rumors, DeGeneras told Jimmy Kimmel in his show: "I read that we were getting divorced, and I went and told her [Portia] and she was sad, and I was like 'Oh my god!' We both were so sad!" DeGeneras joked. "I couldn't believe we were getting divorced, but I guess we are. They said it, " reported GaurdianLV
She further said that she and her wife are happily married.
"We are very happy and that's the truth, and we are not getting divorced," she said.
If DeGeneres is saying that nothing is wrong with her marriage, fans wonder what led to the rumors in the first place. Buzz is that de Rossi is struggling with alcoholism and anorexia, which has apparently led to trouble between the couple. It is also being said that DeGeneres is looking out for someone young as she thinks de Rossi is losing her charm.
"Portia will try any new trick to retain her looks and keep Ellen attracted to her. She spends thousands on luxury facial creams and beauty products, " the website quoted a source.
(Edited by Vanilla Sharma)