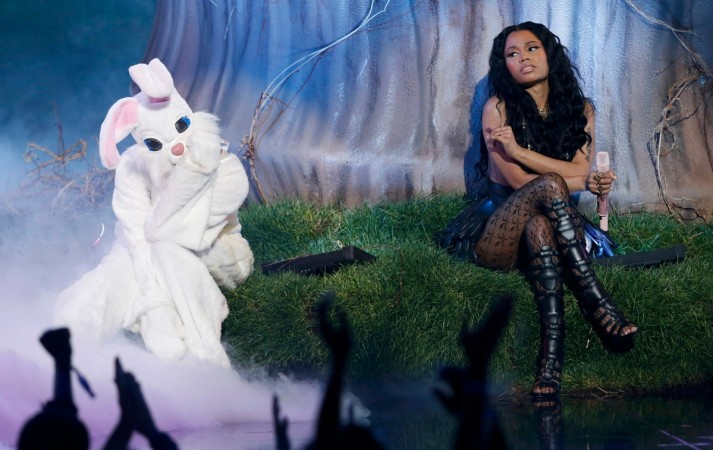 The jury is still out on if Nicki Minaj was actually dissing Iggy Azalea at the BET Awards on Sunday in her acceptance speech for Best Female Hip-Hop Artist, but there is no denying that both the rappers took the stage by storm during their individual performances.
Minaj wowed the crowd with a stunning performance of "Pills N Potions," a single from her upcoming album The Pink Print. Minaj's performance had a trippy effect as the stage was decorated with bunny rabbits, giant mushrooms and contortionists along with scantly clad background dancers.
The Pink Print is her first album in two years.
Meanwhile, Azalea too managed to get the crowd on their feet on Sunday night with her stunning performance of "Fancy," her fourth single off of her debut album, The New Classic.
Several rappers including Snoop Dogg and Minaj were spotted grooving to the music during Azalea's performance.
Fancy was released in February and it was quick to ascent to the number one position on the Billboard Hot 100 chart. Her career further skyrocketed when Ariana Grande's "Problem" featuring Azalea, too, made it to the top spot, giving the 24-year-old the distinction of being the first female rapper ever to have two songs concurrently in the top five of the Hot 100 chart.
While both the artists managed to enthral the audience with their spectacular performances, many believe that Minaj declared war when she hinted that she might be the only female wrapper who writes her own verses.
"My point is, what I want the world to know about Nicki Minaj, is when you hear Nicki Minaj spit, Nicki Minaj wrote it," she said, before adding. "No shade."
Check out some of the reactions to Minaj's speech.
Damn I missed Nicki Minaj ripping iggy an new one! At least she finally got put into her place!

— Ayatt Abdallah (@ayattabdallah) June 30, 2014
whoever chose iggy over nicki minaj is mentally retarted. — t a h t a h ♋ (@xTRUEmaniac_) June 30, 2014
I love iggy but nicki minaj is far better than her and would demolish her in anything

— Jacolby Morris (@BigDaddyKoKo20) June 30, 2014
Iggy still bae. Idgaf. Nicki Minaj still one of my female rappers too. They way different. So Idc. — Ayo Jay ! (@_royalhipster_) June 30, 2014
Minaj also shocked the audience when she said she thought she was going to die.
"The other day, literally, I didn't tell anybody this, I really thought I was about to die," she said. "Like, I was saying my prayers to die. And I didn't even wanna call the ambulance because I thought, 'Well, if I call an ambulance, it's gonna be on TMZ.'"
"And it made me realize: I don't care anymore what anybody gotta say," she said. "I'mma do me! I'mma do me!"